'Allotment' named Best Animation at RTS North West Student Awards.
A team of animation students have picked up the prestigious award for Best Animation at the Royal Television Society Student Awards 2022, the industry pinnacle for student filmmaking.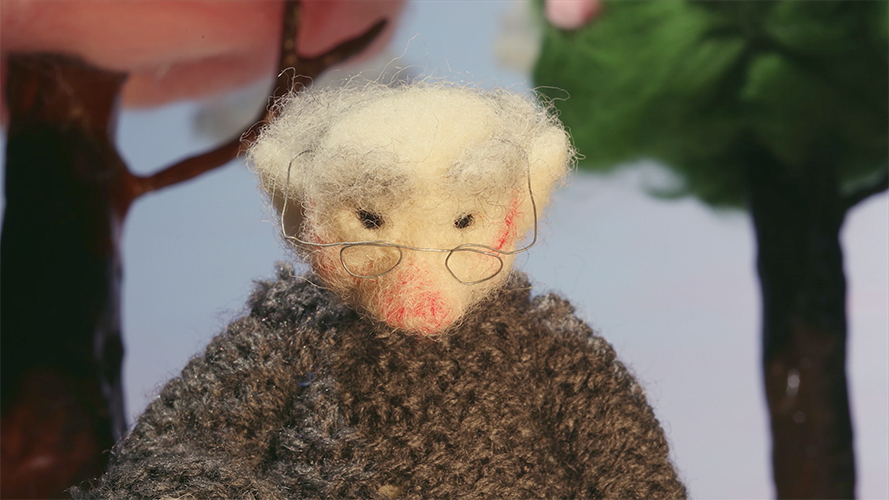 Karla Engström and Samuel Carson, who graduated from BA (Hons) Animation in 2021, have scooped the award with their final year film 'Allotment'.
The annual Royal Television Society North West Student Awards recognises and celebrates the best audiovisual work created by students at undergraduate and postgraduate level within the region.
'Allotment' is a stop motion short about an old gardener who decides to teach a rude teenager a lesson on his way home from his allotment.
Engström produced, directed, wrote, and made the stop motion sets, props, and puppets used in 'Allotment' while Carson animated the film under the direction of Engström.
Engström said: "Winning an RTS for 'Allotment' was absolutely amazing! We worked so hard over the pandemic to bring the story to life and Sam did the most incredible job animating it. We're so proud of this film and it's so lovely that others have enjoyed watching it!"
Carson said: "It feels amazing to have been awarded best Animation. A really wonderful way to say farewell to university and hello to the industry! Infinite thanks to Karla Engström for allowing me to animate her story and for being an incredible person to work alongside. Thank you Manchester School of Art and thank you RTS, let's see what's next!"
Alongside 'Allotment', four other student films were successfully shortlisted for the Best Animation award which included final year films from 2021 graduates Emilia Schneider with 'Abandoned', Mollie Jones with 'I Live Alone', Osian Roberts with 'Twyreryn' alongside current final year student Hossein (Amir) Rezvanipour with his second year film 'The Letter'.
In addition, Alina Akbar, who graduated from BA (Hons) Filmmaking in 2021, was awarded a Special Craft Skills Award for Drama and was shortlisted for the Drama award with her film 'A to D'.
The achievements at this year's prestigious awards follows on from last year's success which saw the student film 'First Man' picking up the Craft Skills – Sound award, and the graduate film 'Luz' picking up the Best Animation award in 2020, demonstrating the continued strength of the course at the School of Digital Arts (SODA).
Marianne Patera, Senior Lecturer (Animation) and Joint Programme Leader (Animation, Games Art and Music & Sound) said: "We are delighted our students' talent and hard work have been once again recognised and rewarded by the RTS.
"The staff on the programme are very proud of the excellent work the students have produced during a challenging year and we are looking forward to seeing their next films and future achievements. Congratulations to Karla and Sam for the award and to Osian, Mollie, Emilia and Amir for their nominations."