Mammoth archive film installation explores strange small-town myths, rituals and folklore, set to new electronic score.
Imaginary figures, fantastical parades and a man dressed as a bush are just some of the weird and wonderful archive films featured in artist and filmmaking lecturer Chris Paul Daniel's upcoming exhibition at HOME.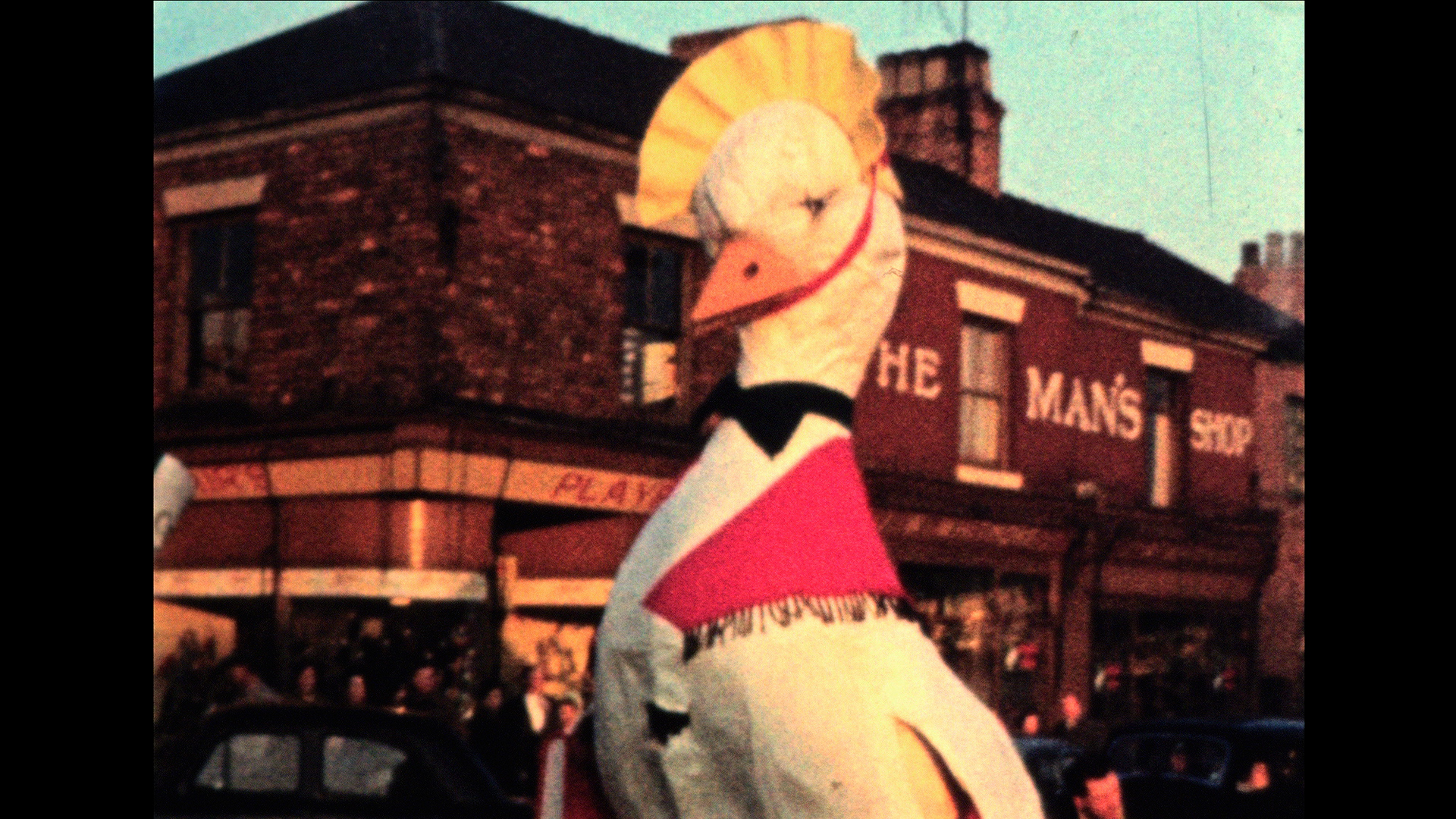 Against an original score of eerie electronic music composed by acid house pioneer Graham Massey, founder member of 808 State, Is there anybody there? weaves together 70 original films from the North West Film Archive at Manchester Metropolitan University, creating a monumental – and sometimes unsettling – study of traditions.
Chris Paul Daniels, senior lecturer at Manchester Met's School of Digital Arts (SODA) spent hundreds of hours editing archive footage of North West carnivals, parades, Whit walks and pageants shot by enthusiasts between 1901 and 1999 in their homes, on the street, and by local film societies.
The haunting 17-minute film showcases elaborate animal costumes, solemn rose queen processions and puzzling puppetry, all ceremonies from a bygone time that are cleverly linked by a narrator voice to trending topics of today.
Filmmaker Chris Paul Daniels said: "I was inspired by watching NWFA's footage of a turn of the century man dressed as a bush at a Rochdale parade. It spoke of weird local folklore and traditions, which became even more intriguing when I collected and edited similar footage of enactments including magic tricks, community art performances and even a parade of people dressed as a caterpillar.
"There's something inherently strange about folk stuff like this, and I wanted to explore how we can use a language interplay to create a timeslip between the past, present and future."
In that vein, footage of an oversized papier mache head on a parade float is linked to a voiceover script about 'powerful figures running rampant', social media is referenced with warnings of 'a constant feed picking at the brain' and grotesque fancy dress is tied to last year's word of the year, 'goblin mode'.
All 70 of the films were sourced from NWFA at Manchester Metropolitan University, where staff created high definition files from original footage using state-of-the-art equipment.
Will McTaggart, Access and Engagement Manager at NWFA, said: "We were delighted to work with Chris on such an ambitious project and we're particularly grateful to donors and rights holders for their co-operation in making this unique material available for artistic interpretation."
Based at Manchester Central Library, the University's NWFA finds, preserves and shares over 50,000 items of film and video for public, educational and professional use.
The exhibition's vintage footage is juxtaposed by an original score of other-worldly electronic music composed by Manchester legend Graham Massey, record producer, DJ, and founding member of 808 State who's produced for and co-written with Bjork. He said: "Over the past few years, Chris and I have developed a common syntax when it comes to the music composition for his films.
"With Is there anybody there? I found myself in the musical dark room, spot colouring, eroding and bleaching the music in order to match the changing decades in the images. We are both used to working in a collage format and having word magic as the star of the show. I feel like my role was to provide beautiful textiles to a master tailor."
Is there anybody there? is part of a wider exhibition of solo shows launching at HOME on February 17, which includes exhibitions by Manchester School of Art's MA Fine Art and MA Painting graduates, Nick Jordan and Parham Ghalamdar.
Nick Jordan's Natural Interaction explores the interdependencies between social and ecological healthcare, while Parham Ghalander's Painting, An Unending draws on Persian and Western art, graffiti and digital culture.
All three exhibitions will launch at a preview event at HOME on Friday February 17 at 6pm, and will be running until Sunday June 4 2023. Find out more about the exhibitions here.