Manchester Metropolitan University has welcomed the UK Minister of State for Higher Education and Further Education to learn how Degree Apprenticeships are delivering powerful benefits for students, employers and the economy.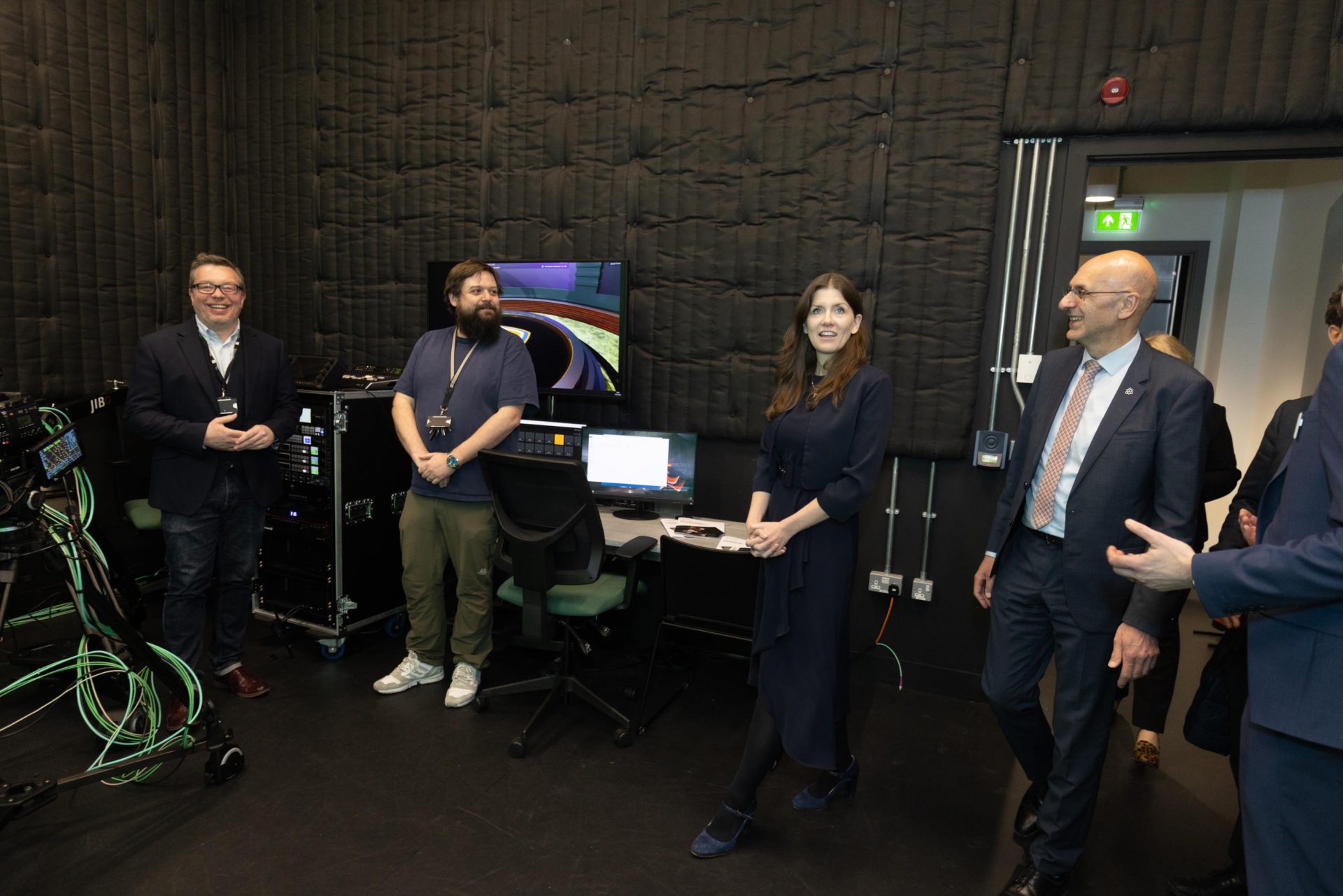 Michelle Donelan met degree apprentices and major public and private sector employers to learn how the University's degree apprenticeship programmes in subjects from Digital Marketing to Healthcare Science support the Government's Levelling Up agenda, opening routes into higher education for those who are the first generation in their families to go to university, those seeking to advance their careers later in life and those looking to enter non-traditional career paths.
After touring Manchester Metropolitan's brand new School of Digital Arts, a £35m joint investment with Greater Manchester Combined Authority, the minister enjoyed a demonstration of cutting-edge UX testing which will enable students to shape the next generation of digital design by some of its first Digital User Experience (UX) degree apprentices.
She then met with degree apprentices and major employers, including the Co-Op, Capgemini UK, Ford Mobility Europe, Autotrader and Manchester-based investment services provider, AJ Bell, to explore themes from the University's Force for Change report.
The report demonstrates how Degree Apprenticeships broaden career opportunities for students from diverse backgrounds, including those who are 'first generation,' BAME or returning to education as they work, and provide alternative routes into STEM for women. It also found that they play a significant role in supporting the UK skills agenda, helping employers to develop the capabilities they need to succeed today as well as to build a talent pipeline for the future.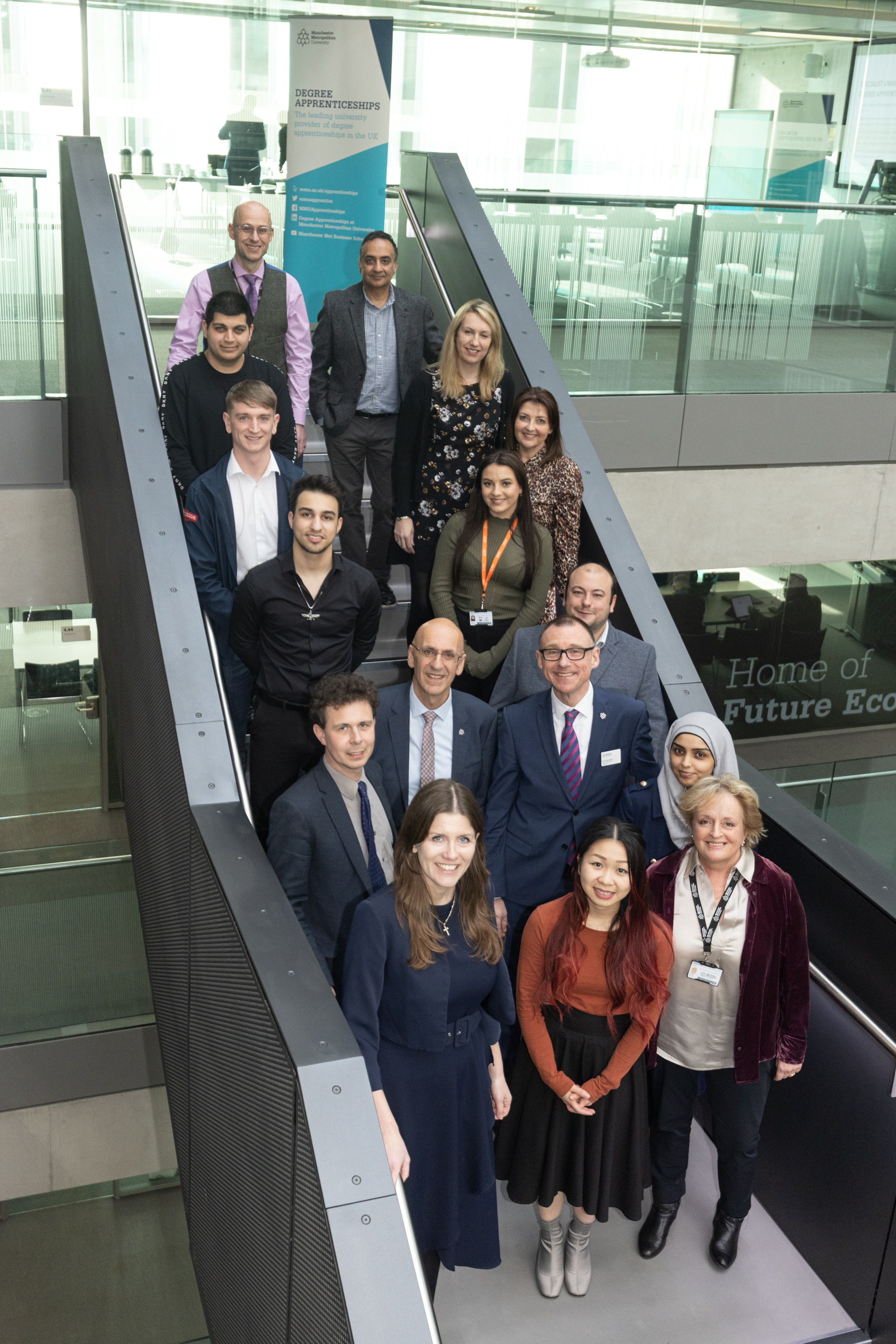 The Minister of State for Higher Education and Further Education with University leaders, degree apprentices and employers
Professor Malcolm Press CBE, Vice-Chancellor of Manchester Metropolitan University said: "As a leading UK provider of degree apprenticeships, we are ideally placed to help the Government understand how this innovative route into higher education delivers skilled and ambitious graduates and can enhance life chances for all those with potential.
"We were part of the initial cohort of universities to offer them from 2015 and are now recognised as a benchmark for quality. Today, we have more than 2,500 degree apprentices and 540+ industry partners. Force for Change data speak for themselves; 40% of our degree apprentices are the first generation in their family to go to university and the overall achievement rate (the proportion of those who pass their apprenticeship out of those who begin one) is 83% – significantly higher than the national undergraduate average of 64%."
Michelle Donelan MP said: "The days of old-fashioned snobbery around vocational education are over. Apprenticeships are key to levelling up opportunity across the country and should carry the same esteem and sense of pride as traditional academic routes.
"Degree apprenticeships are a growing part of our skills revolution, and I am delighted that the number of apprenticeships with a mandatory degree component has nearly doubled since 2018/19.
"Manchester Metropolitan University gives me confidence that such impressive growth can continue. With more than 2,500 apprentices and over 500 industry partners, the university has set a high bar for degree-level apprenticeships and offers a blueprint for success to other providers."
You can find out more about Manchester Metropolitan University's Degree Apprenticeship programmes here.