Slip.Stream.Slip
Resistance and velocity in game engine culture
From 24 June 2022, 10am – 4pm
Private view: 23 June 2022, 5.30pm
Featuring nine international artists, our inaugural exhibition celebrates game engine culture and how our relationship to images, sounds and interactivity has been transformed by technologies such as the Unity and Unreal engines.
The inaugural exhibition at Modal gallery focuses on game engine culture and the shift toward gamification as a model for understanding our lived experiences. Slippage between real life and simulated worlds has reinforced a lexicon of competition, changing our relationship to social interaction, media production, and time and space.
The game engine sits behind processes that go beyond creative production into healthcare and manufacturing, cementing its place as the central authoring tool of our time. Slip.Stream.Slip explores the tensions and contested spaces that open up when the micro politics of everyday living meet complex, simulated worlds.
Exhibiting Artists:
Alexandra Daisy Ginsberg
The Wilding of Mars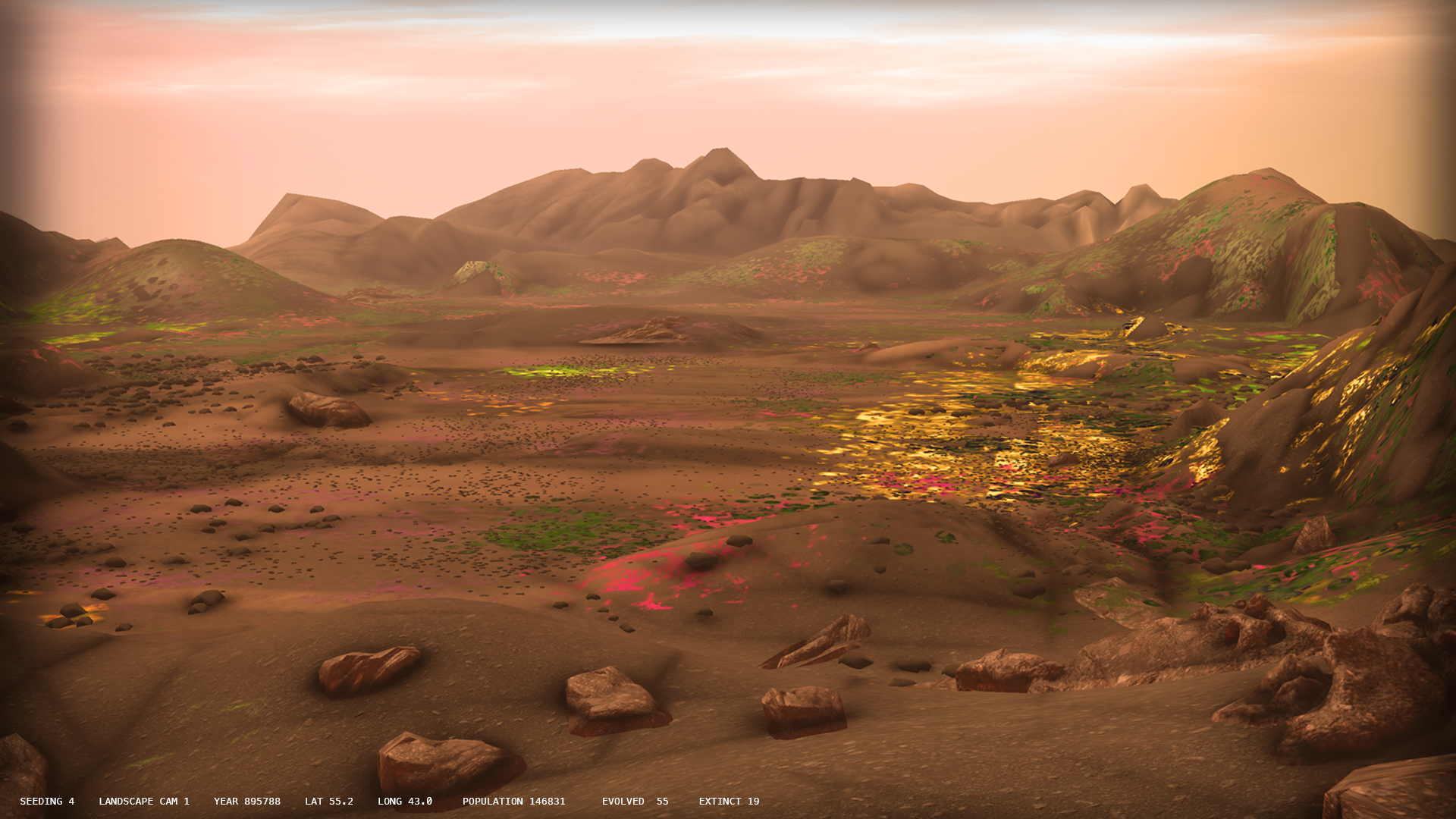 Human dreams of colonisation are not limited to Earth. We see Mars, untouched by Earth life as barren, treacherous, beautiful; another planet to colonise. But humans invariably become exploiters.
Instead, could we imagine Mars colonised only by plants, flourishing without us? The Wilding of Mars simulates the growth of a planetary wilderness, seeded with Earth life forms.
Like other 'frontiers', Mars is seen by some humans as open for exploitation, whether or not indigenous life exists there. The Wilding of Mars instead prioritises a non-human perspective with plants visibly growing and colonising the terrain, while voyeuristic camera angles heighten the sense of human intrusion.
Auriea Harvey
The Mystery (version 5)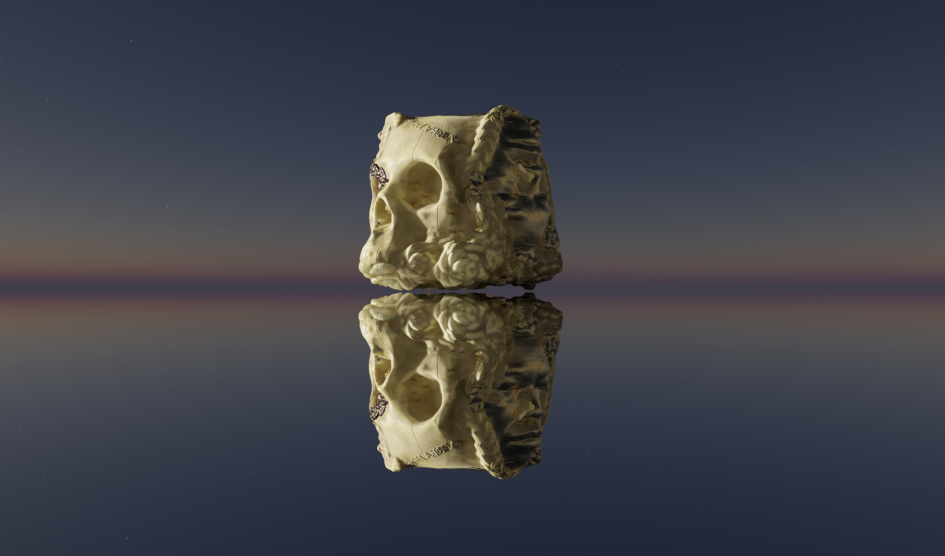 A talisman, everyone needs one. The Mystery (version 5) is part of a series of sculptural explorations on the subject of mortality. Drawing from the tradition of Memento Mori, a theme popular in Baroque painting and sculpture. A skull, a face, a rose, a braid. Bone, nature, beauty, death. You collect the 3D model of this sculpture in different formats.
The file formats invite your use and contemplation (in a metaverse, a website, an animation); ultimately, to see beyond the spectacular displayed form – from polygons into text, the most archival of data – a final resting place. With a secret link included in the package, you will be able to order a 3D print of The Mystery as a bead or small sculpture, order as many as you wish. There is no true size in digital 3D. The Mystery could be printed to be as small as a fly or large as a human head. Use as is meaningful.
Cécile B. Evans
What the Heart Wants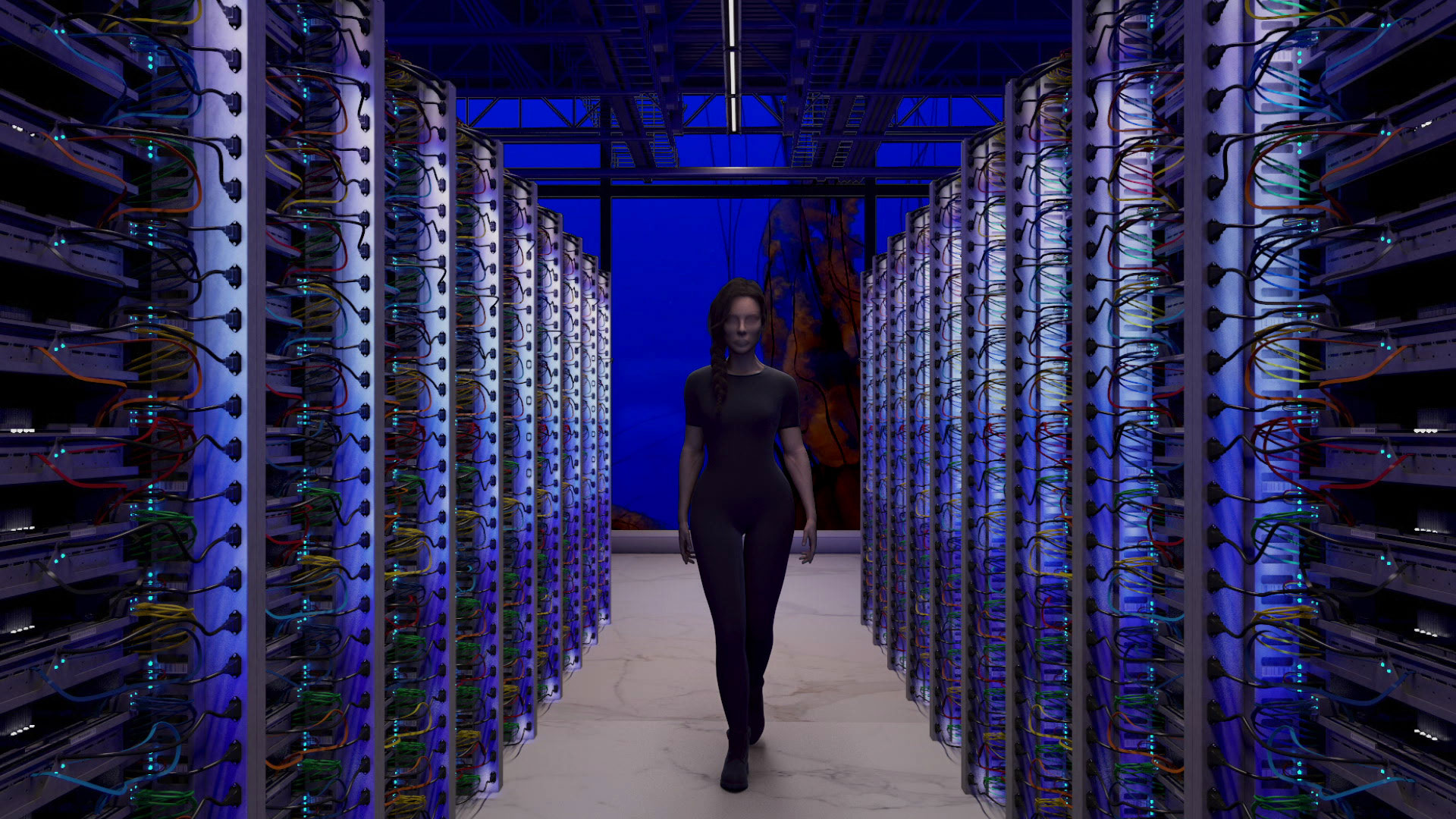 The work of Belgian-American artist Cécile B. Evans is concerned with the value of emotion in society and its rebellion as it comes into contact with ideological and technological structures. Evans' video installation What the Heart Wants explores the person-to-machine exchanges that have come to define the contemporary human condition.
The video's hyperlinked narrative takes place after the fall of the internet and follows HYPER, an omnipresent system that has replaced infrastructure and achieved the ultimate goal of 'personhood'.
Amidst the dizzying paradoxes of a future-turned-now, a negotiation emerges about who or what constitutes a person and how systems shape the terms of what it means to be 'human'. Visitors enter a 'voided ocean' setting within the installation, as HYPER is joined by a range of other protagonists: an immortal cell; a memory from 1972 that has outlived the humans who would have remembered it; a disbanded trio of off-grid lovers; lab children with their robot caregiver; and a workers' collective comprised entirely of disembodied ears.
Jakob Kudsk Steensen
Liminal Lands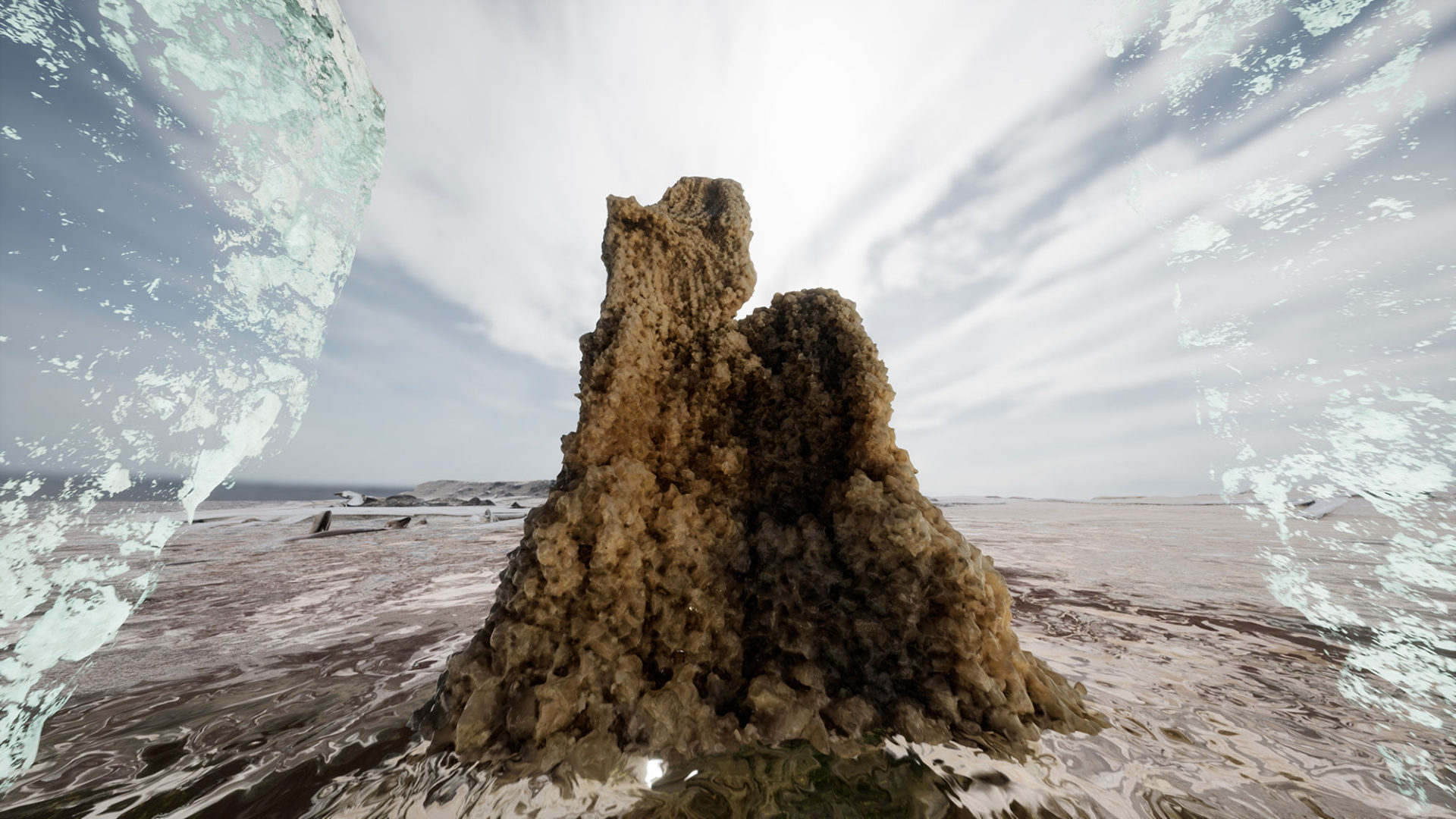 Liminal Lands is a transitional zone where fundamental energies of sun, wind, water and bacteria connect to participants' bodies in virtual reality. Through interactive multiplayer technology, physical movements, spatial sounds and textures synchronize into a musical composition driven by immersed participants. Liminal Lands reveals life-shaping transformations, invisible to the naked eye. It begins slow and rhythmic, guiding from the familiar human realm towards a metamorphosis of life and technology.
Liminal Lands is an environmental multiplayer experience shared by four people at the same time. Each person transforms into the basic elements controlling life across the landscape: Algae, salt, water and mud. As they embark on a communal ritual experience, people morph and change throughout their journey, exploring each new world from a changed perspective of the landscape. Visitors move across different scales and global weather conditions, shedding their human perspective as they are pulled into six different realms inspired by the macro-landscape.
Jenna Sutela
nimiia cétiï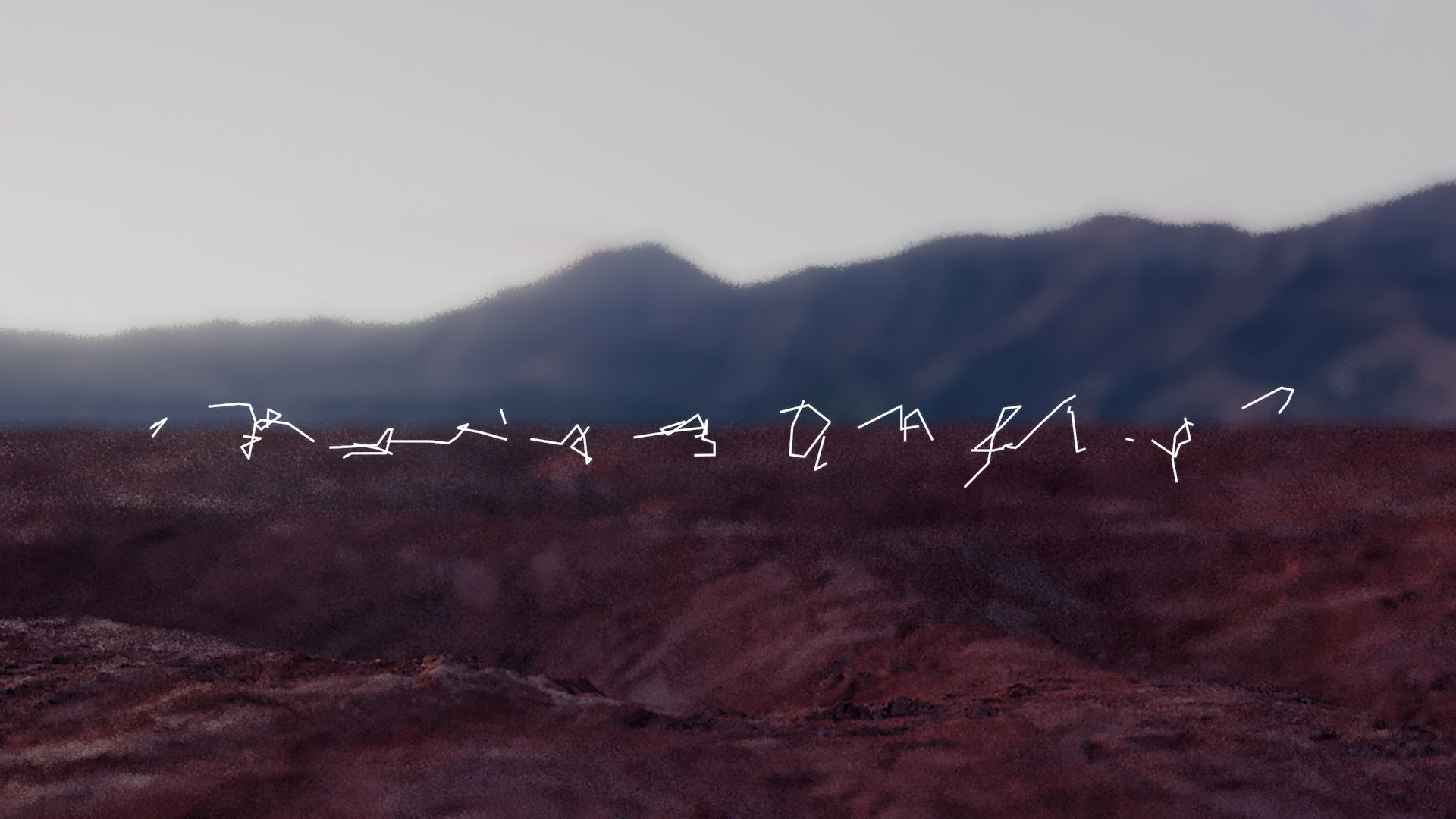 nimiia cétiï is an audiovisual work by Jenna Sutela using machine learning to generate a new written and spoken language. This language is based on the computer's interpretation of a Martian tongue from the late 1800s, originally channelled by the French medium Hélène Smith and now voiced by Sutela, as well as the movement of Bacillus subtilis nattō, an extremophilic bacterium that, according to recent spaceflight experimentation, can survive on Mars. The machine, in this project, is a medium, channelling messages from entities that usually cannot speak. The work is also about intelligent machines as aliens of our creation.
nimiia cétiï was created in collaboration with Memo Akten and Damien Henry as part of n-dimensions, Google Arts & Culture's artist-in-residence programme at Somerset House Studios. Thanks to Kieran Bates from the Institute of Zoology at Imperial College London, Adam Laschinger for sound recordings, and Manus Nijhoff and Leïth Benkhedda for 3D work. The video includes music with Miako Klein on contrabass recorder and Shin-Joo Morgantini on flute, with sound production by Ville Haimala.
Joshua Citarella
When Guys Turn 20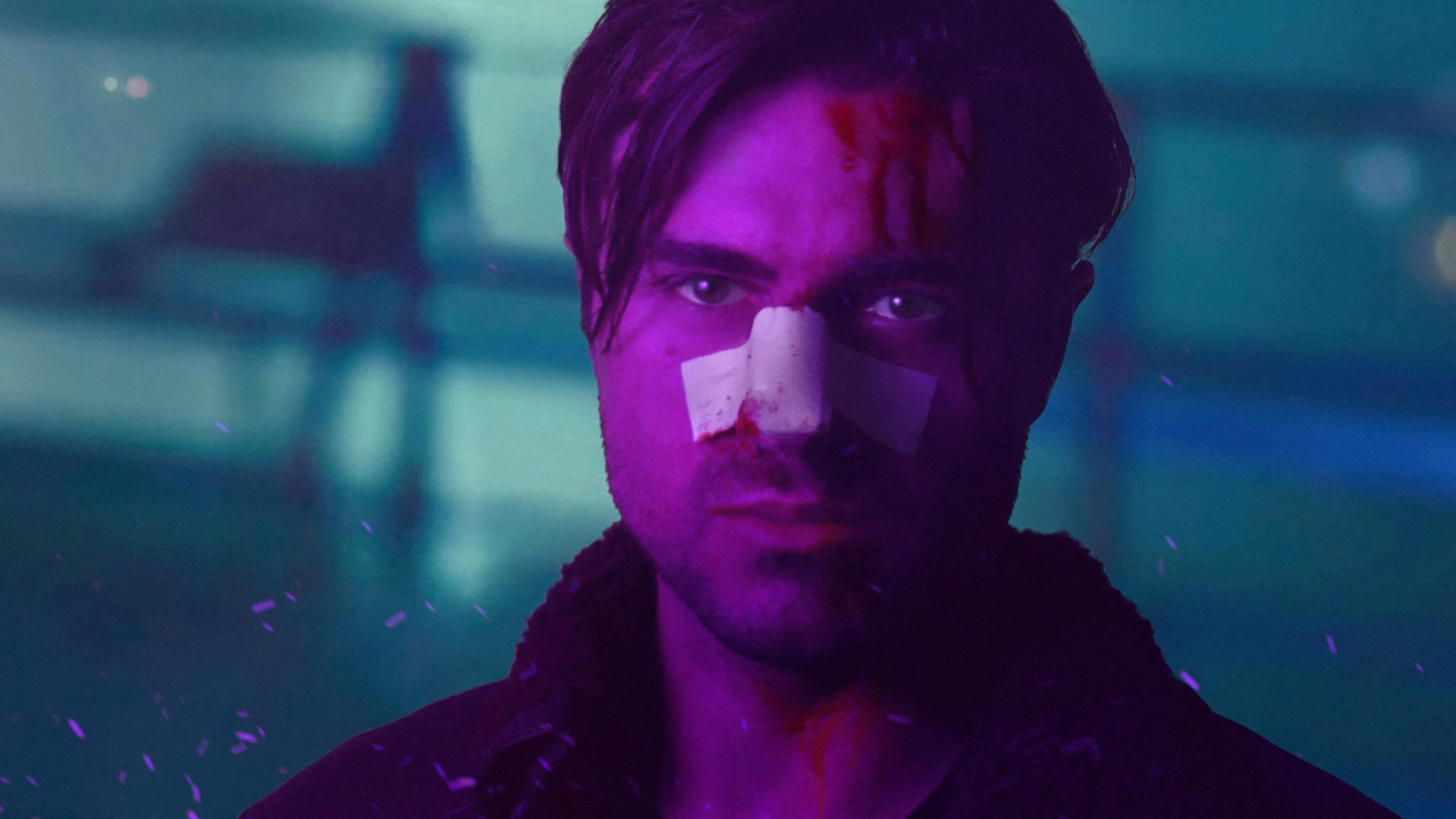 For the past several years, artist Joshua Citarella has targeted his research-based practice on the political behaviors of the young and very online. Jacob Hurwitz-Goodman has similarly used his documentary practice to investigate emergent political modes like Seasteading. Together in When Guys Turn 20, they explore how users across the political spectrum deploy memetic tactics on social media, as well as how the rhetoric and reality of Silicon Valley diverge.
Cycling through a variety of locales and roles (teacher, Twitch streamer, prisoner, Sith Lord), Citarella narrates online political methods and mechanisms of propaganda.
From MMORPGs as a proof-case for socialism, to the tricks of meme extremists, to the problems of Big Tech, When Guys Turn 20 offers a behind-the-servers glimpse into various expressions of platform capitalism.
Juan Cortés
On Vegetal Politics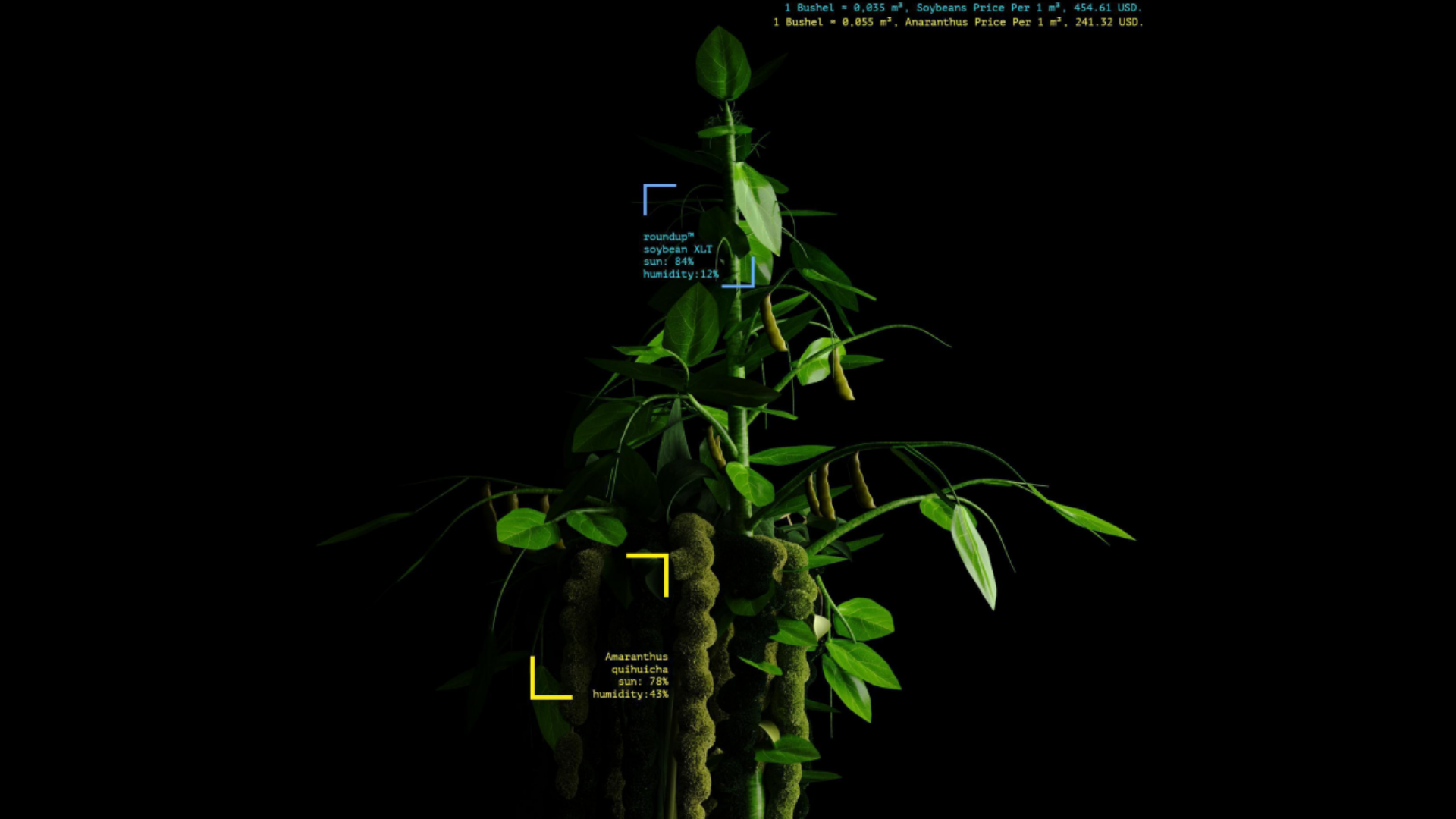 On Vegetal Politics focuses on the case of soy monoculture and its accelerated expansion in South American territories. The political struggles waged in Latin America around the issues of food sovereignty, deforestation, and the preservation of biodiversity have the multidimensional problem of monocultures as one of their focal points of dispute.
Soy is, among other things, essential for livestock and the meat industry. For some time now, and as if it were one of the phenomena that testify to the growing sensitivity of the earth as a kind of super-organism, soy monocultures have been threatened by the amaranth plant.
The work draws attention to the fact that amaranth, before falling into the status of a parasite, was a plant that occupied a valuable place in the ways of life of the indigenous peoples (such as Chibchas in Colombia) as its nutritional value is enormous. Amaranth is an essential grain that circulates outside the predominant agro-industrial matrix. The corporate solution to combat amaranth has been a transgenic war in which an immunological mutation is operated on soy plants in order to diminish the virulent contagion of the indigenous grain.
Lu Yang
DOKU Digital Alaya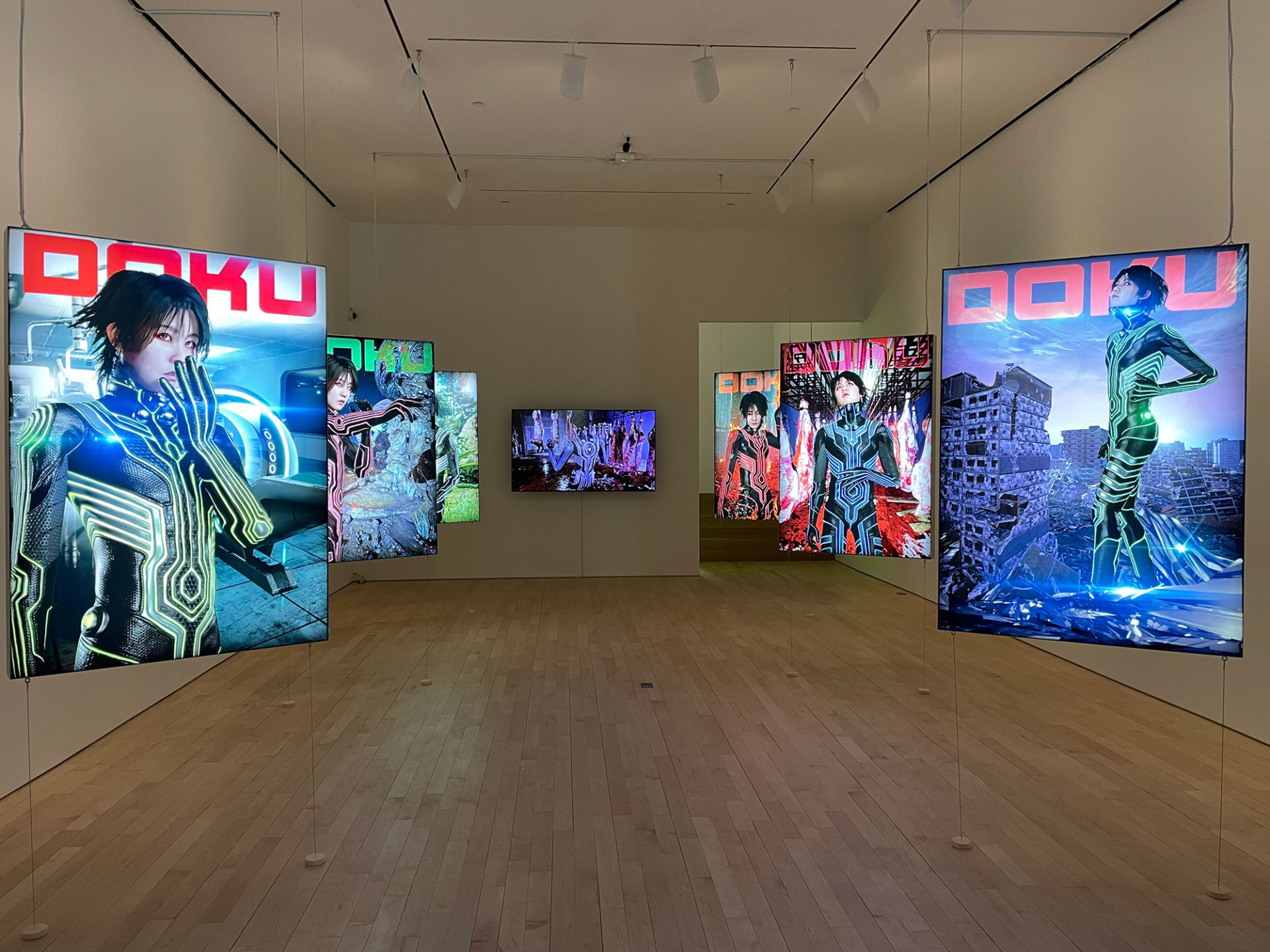 Shanghai-based multimedia artist Lu Yang creates fantastical, often painful, and shocking images which represent an interdisciplinary blend of religion, philosophy, neuroscience, psychology and modern technology, as well as allusions to real life forms and structures of natural and religious origin.
The output of Lu Yang's artistic practice spans game engines, 3D-animated films, video game installations, holograms, motion capture performances, virtual reality and software manipulation. The artist also collaborates with acclaimed scientists, psychologists, performers, designers, experimental composers, music producers, robotics companies and pop stars.
Rachel Maclean
I'm Terribly Sorry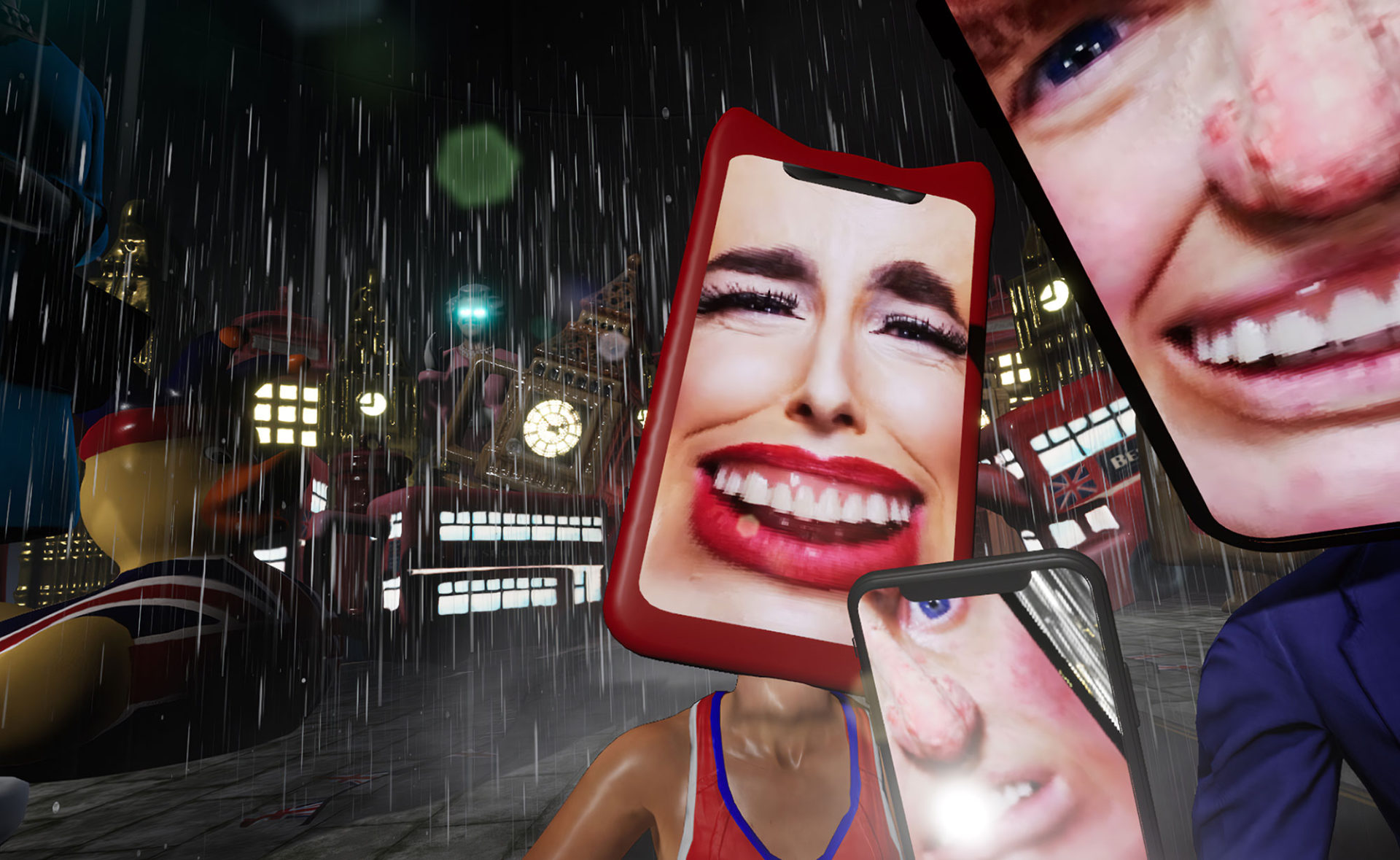 I'm Terribly Sorry is a virtual reality video, set in a dystopian British urban landscape filled with oversized Union Jack emblazoned tourist merchandise. Several privileged city dwellers approach the user, each of whom has a large smartphone for a head.
Initially benign and apologetic, they tell convoluted stories and attempt to elicit money, with their protestations soon becoming more sinister.
In collaboration with DIS
General Intellects with McKenzie Wark 'E1: Paul Preciado' (3:00) by DIS.
Metamorphosis 'E1 Grub Economics' (15:00) by Queer Ecology.
What Do People Do All Day 'E1 Everyone is a Worker' (6:00) by Simon Dyboe Moller.
A Good Crisis (3:48) by DIS
The Restaurant 'E1 The Average Chef' (5:00) by Will Benedict and Stefan Jorgenson.
Slash 'E1 I Don't Know Her' (3:00) by Leah Hennessey and Emily Allan.
Visit the Exhibition
To find out more about Modal and see our opening times, click here