Students contributed to Beyond The Music's 'Inspire' day
Students from Manchester Met's School of Digital Arts (SODA) exhibited and talked about their work, with fungi frequencies among the installations on display at Beyond The Music, a new Manchester music conference and festival that took place from October 11 to 14.
Beyond The Music, a new global music conference and festival founded by Tony Wilson's son Oli Wilson, aims to explore, define, and tackle issues faced by the music industry to help shape the future with an international strategy for music.
Three talented SODA students took part in Beyond The Music's 'Inspire' day, a free to attend day of workshops and panels for everyone wanting to develop a career in the music industry, which took place at The Halle St Peter's in Ancoats on October 14.

MA Sound Design student and Sony PlayStation Career Pathways Scholar Maya Chowdhry presented her work Fathoming Fungal Frequencies, an interactive sound experience exploring human relationship with fungi.
Visitors dropped into the installation throughout the day and were invited one at a time to interact with the immersive work.
After connecting an electrode to the back of their hand, participants were then invited to touch the fungi which produced a unique soundscape in response to their touch, creating a connection between people and fungi.
The soundscape created varies between each person, the type of fungi used, and the environmental conditions to create a unique response featuring different qualities of timbre, pitch, and frequencies created through sonification.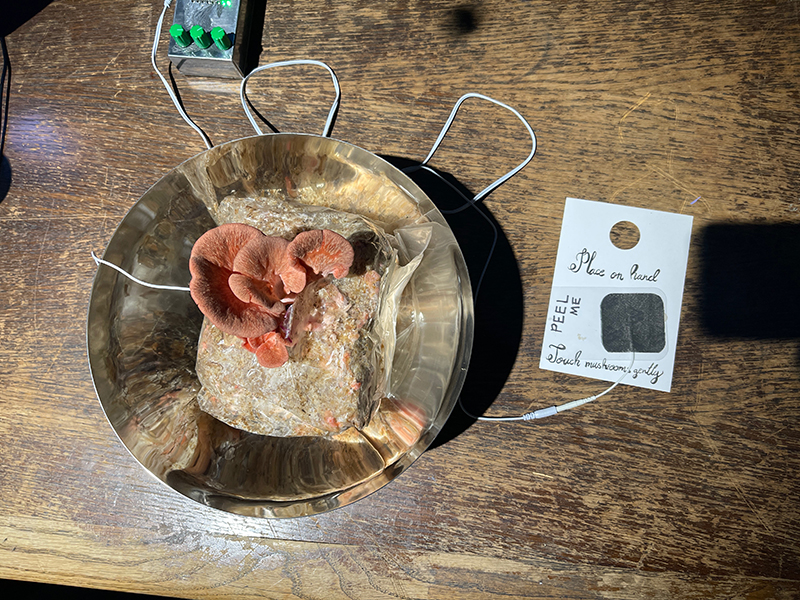 Maya Chowdhry said: "It's a wonderful opportunity to be able to present my sound installation as part of Beyond The Music festival which will open up the work to a completely new audience. This is the first time the work has been shown in a professional festival and it offers a fantastic platform for new audiences to experience the work, and to get valuable feedback on the installation that will hopefully lead to securing more work in the future."
Maya Chowdhry alongside fellow BA Future Media Production students Charlie Clark and Alex North delivered a talk in the afternoon offering insight into their work.

Maya Chowdhry discussed her inspirations for Fathoming Fungal Frequencies, while Charlie Clark and Alex North talked about their project Two Step, a Manchester based events company that aims to generate revenue through club nights that utilise 360 cameras to create immersive and unique videos of these events.
Following a successful first event, they plan to build and to grow their brand further to use emerging immersive technologies including unreal engine and virtual reality to create virtual and real DJ sets to enhance the overall user experience.
Kadja Manninen, Lecturer in Entrepreneurship in the Digital Creative Industries and Student Employability Lead at SODA, said: "It's inspiring to witness the professionalism of SODA's entrepreneurial students as they actively engage in Beyond The Music. This opportunity not only allows them to promote and showcase their outstanding work but also underscores their dedication and commitment to the industry."
More information about Beyond The Music's 'Inspire' Day and the wider festival and conference can be found here.
To find out more about studying Sound Design and other subjects at SODA, check out our course page.