See Yourself in SODA is a chance to showcase your work in the physical and virtual exhibition spaces of our brand new school at Manchester Metropolitan University
This year we have even more opportunities for you to showcase your work.
PLEASE NOTE: The deadline for entries for 2022 has now passed. Check back here for details of our 2023 competition.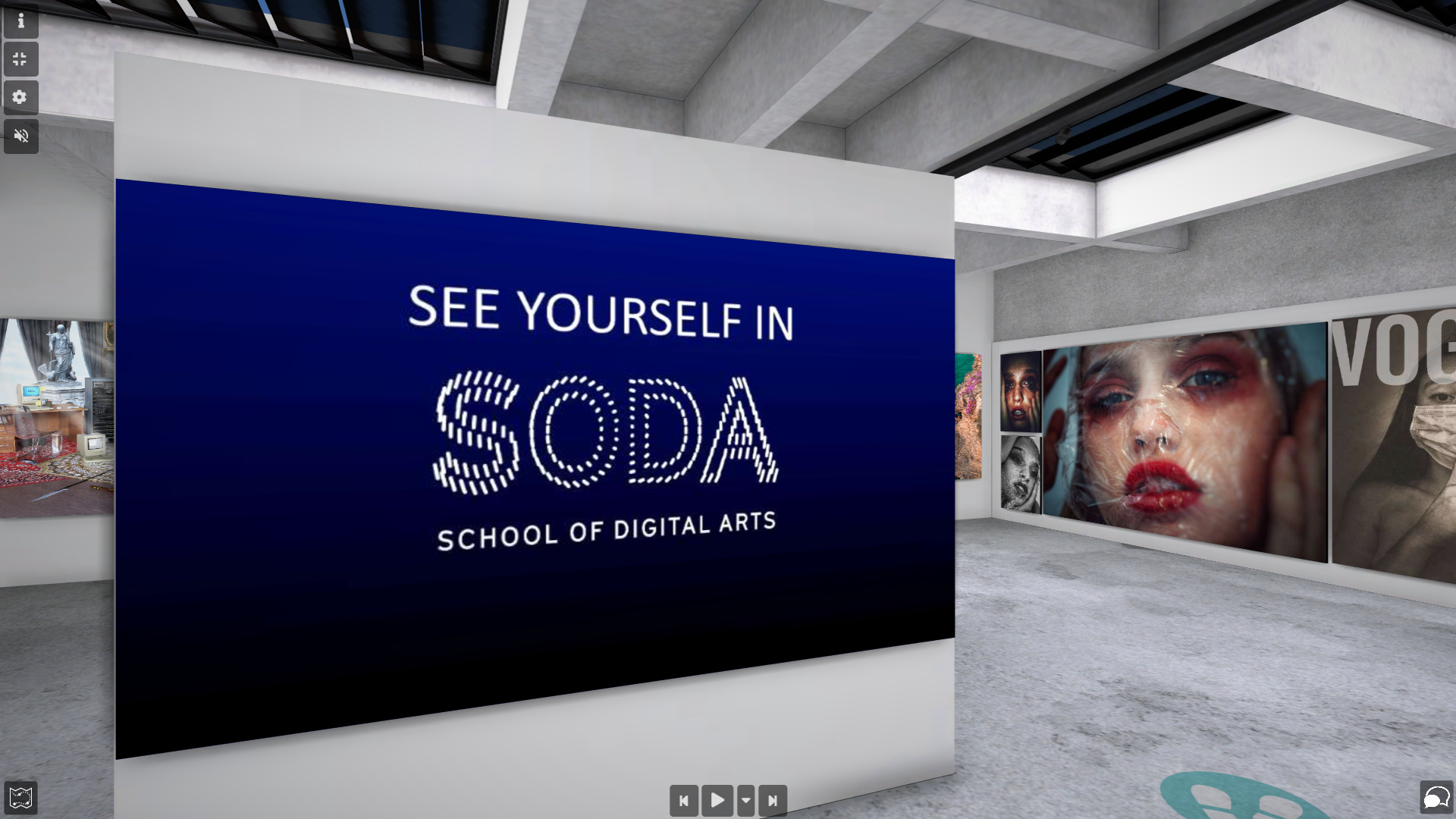 Theme: The Games We Play
This year, the competition is about videogames and the role of gaming in society.
Games entertain us. They can also challenge, educate, and change us.
Processes can take many forms, from artificial intelligence to CGI, from extended reality to videogames. The development of computer graphics, both 2D and 3D, has expanded the concept of gaming, becoming one of the key mediums of our time.
We are looking for new, original pieces of work that explore the theme in an innovative way.
At the end of the competition window, entries will be judged by our SODA panel of experts, who will select the finalists.
Your work, our space. Show us what you've got!
Categories
We'll be accepting submissions in the following categories:
School or College
University
Emerging Creatives (Working in industry 1 year or less)
What's in it for you?
This is the perfect opportunity to showcase your work with Manchester Metropolitan University and – in particular – the new School of Digital Arts. 
Prizes
SODA have teamed up with Blackmagic Design to offer some exciting prizes, including DaVinci Resolve Studio Licences for winning creatives in the following categories:
Best Student
Best Emerging Creative
Best Façade
Each category winner will receive a DaVinci Resolve Studio Licence and Speed Editor bundle worth £530.

Your entry
Work must be submitted digitally. We cannot accept physical work. Your entry must be conceived for a digital exhibition; therefore, it must be created considering specific parameters, dependent on whether it has been created for our LED Façade, Internal Screens, or our Virtual Gallery.
Where content has been generated physically it should be scanned or photographed for upload to our social channels.
You can choose to submit your work to be displayed on either of the following spaces :
LED Façade
Internal Screens
Virtual Gallery
See our Submission Requirements page for full entry guidelines.
How to submit
To be considered for the competition, post a thumbnail of your work to Instagram, tagging our Instagram account:
IMPORTANT – to ensure your work is considered for the competition, please include the following in your post:
Your name
The name of your work
The hashtag #SYiScomp
One of the following hashtags, to indicate which category you are entering your work in: #SchoolorCollege #University  or #EmergingCreative
Finalists will be contacted in the first instance via Instagram. Once selected, finalists will be asked to send a full resolution version of their work to SODA, formatted according to our Submission Requirements.
Deadline
The deadline for entries for 2022 has now passed and this year's competition is closed.
Get in touch
If you have any further enquiries about the competition, please contact: m.mullen@mmu.ac.uk