The School of Digital Arts (SODA) invites eligible students to take part in a mentoring programme led by SODA students and the opportunity to attend our first non-residential Summer School in conjunction with the PlayStation Career Pathway Program.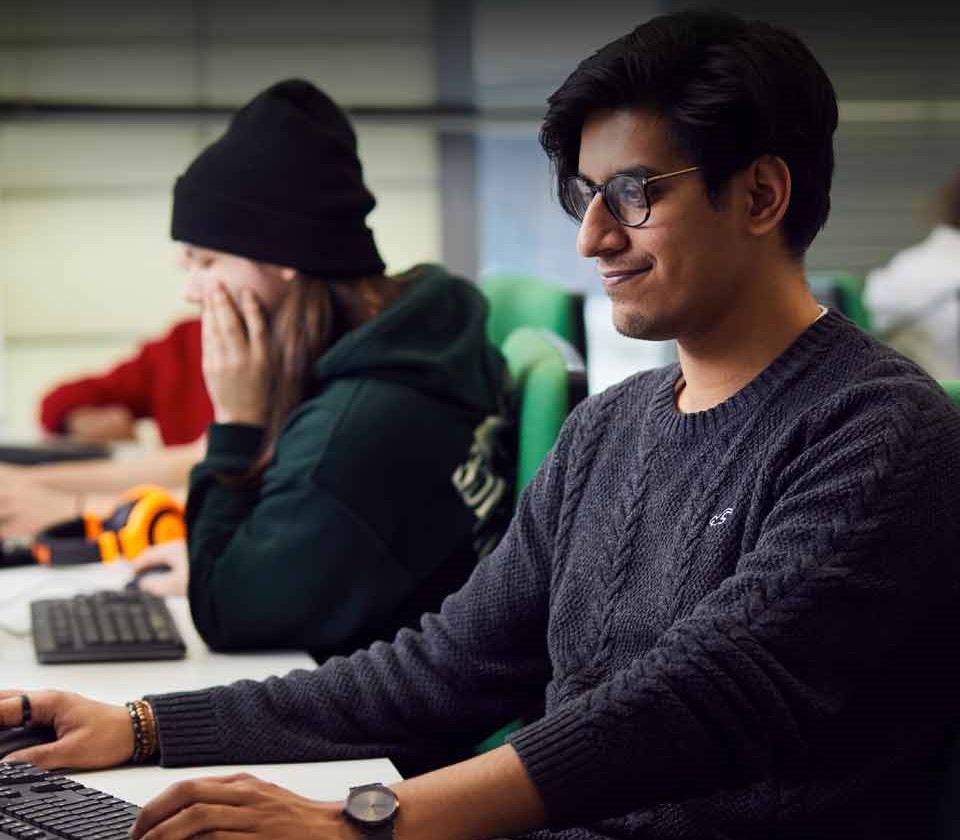 Mentoring Programme
Taking part in this mentoring programme is a great way to find out more about university and your options for studying the digital arts. It's also an ideal extracurricular activity that can be included on your university application and CV.
As well as receiving general advice and guidance, you'll have the opportunity to work with students from SODA and gain an insight into their student experience on a digital arts course at university.
Our SODA mentoring programme offers the chance to take part in our very first non-residential summer school at SODA, with opportunities to network with representatives from Sony Interactive Entertainment.
Mentoring topics
Current students will be on hand to share their own experiences. The following topics will be covered across the programme:
How to find out about Higher Education
This session will give you the opportunity to discover the best ways to navigate information about studying at university, from looking at tools on UCAS, to the UCAS cycle, what to look out for when looking into a university, and navigating key information such as course information (modules, learning structure), accommodation (prices, locations), etc.
Top Tips on Writing a Personal Statement and Digital Portfolios
As part of your university application you will be required to write a personal statement. This session will aim to cover planning and writing a personal statement, from the basic formats involved to sharing best practices. The session will also aim to provide a clearer insight into a good digital portfolio.
Student Finance
The student finance aspect of University is an important topic for both students and others involved with the process at home. This session will aim to deliver the most up to date information for Student Finance, where to find useful resources and top tips.
Writing a Creative CV
CVs are important when applying for jobs in any industry and can vary for each role. A creative CV is designed to show off your skills as a creative looking to progress within the industry – and showcase skills in your specialist area. This session will cover core considerations for any CV and explore best practice for developing a creative CV.
Insight into SODA
For the final session of the mentoring programme, you will have the opportunity to have an insight into studying a subject at SODA. Our mentors will be creatives already studying at SODA. Subject TBC closer to the date.
Dates
There will be one session per week, each Wednesday across a period of five weeks, starting on Wednesday 8th June 2022 and will take place virtually via Microsoft Teams.
Timings
17:00 – 18:00
Location
Virtual (Microsoft Teams)
Criteria for applications
To be eligible for the programme, you should:
Be from a Black, Asian, or Minority Ethnic background
Be studying in Year 12 or equivalent at College
Be interested in studying the Digital Arts
How to apply
Please use the button below to fill out the booking form. Please also register your interest for the SODA and PlayStation Career Pathway Program Non-residential Summer School on the application form. Information below.
Summer School
We are teaming up with the PlayStation Career Pathway Program for SODA's first non-residential summer school. This is an exciting chance to explore and experience our SODA building and get taste for creative subjects at university and in SODA specifically.
This unique programme will aim to help you with the next steps in your career as a creative, with the involvement of experts in the industry from Sony Interactive Entertainment and SODA.
Subjects
Games Art
Music and Sound Design
Future Media Production
This is a great opportunity to experiment with new techniques and build confidence, particularly in these creative areas housed within SODA. Each session will aim to give you the opportunity to develop your creative skills and work with specialist facilities in our new SODA building, which has been designed specifically for the digital arts now and in the future.
Dates
The Non-Residential Summer school will run across 3 days between the hours of 10am and 3pm:
Tuesday 19 July, 2022
Wednesday 20 July, 2022
Thursday 21 July, 2022
Finalised timetable and session summaries will be confirmed soon.
Location
On-campus (SODA).
How to apply
Please tick the box on the mentoring programme booking form to register your interest. We will be in touch as the mentoring scheme closes to confirm the status of your place.
Approximately 50 spaces will be available, on a first come first serve basis, to students who have completed the SODA mentoring.
---