Wednesday 15 November 2023, 12 - 5.30pm
Location: School of Digital Arts (SODA) at Manchester Metropolitan University
Event Type: In-person
Price: Free, but please register for a ticket
Thanks to all who attended the CreaTech Innovation Showcase, hosted by the School of Digital Arts (SODA) at Manchester Metropolitan University, in collaboration with our colleagues in the Greater Manchester Universities Partnership.
You can now download the presentations from the event here:
This event was a unique opportunity to explore the fascinating intersection of creativity and technology while connecting with researchers, industry experts, and fellow innovators. The showcase event included researchers from each University working at the intersection of creativity and technology as well as exploring the ways in which businesses can engage with Universities.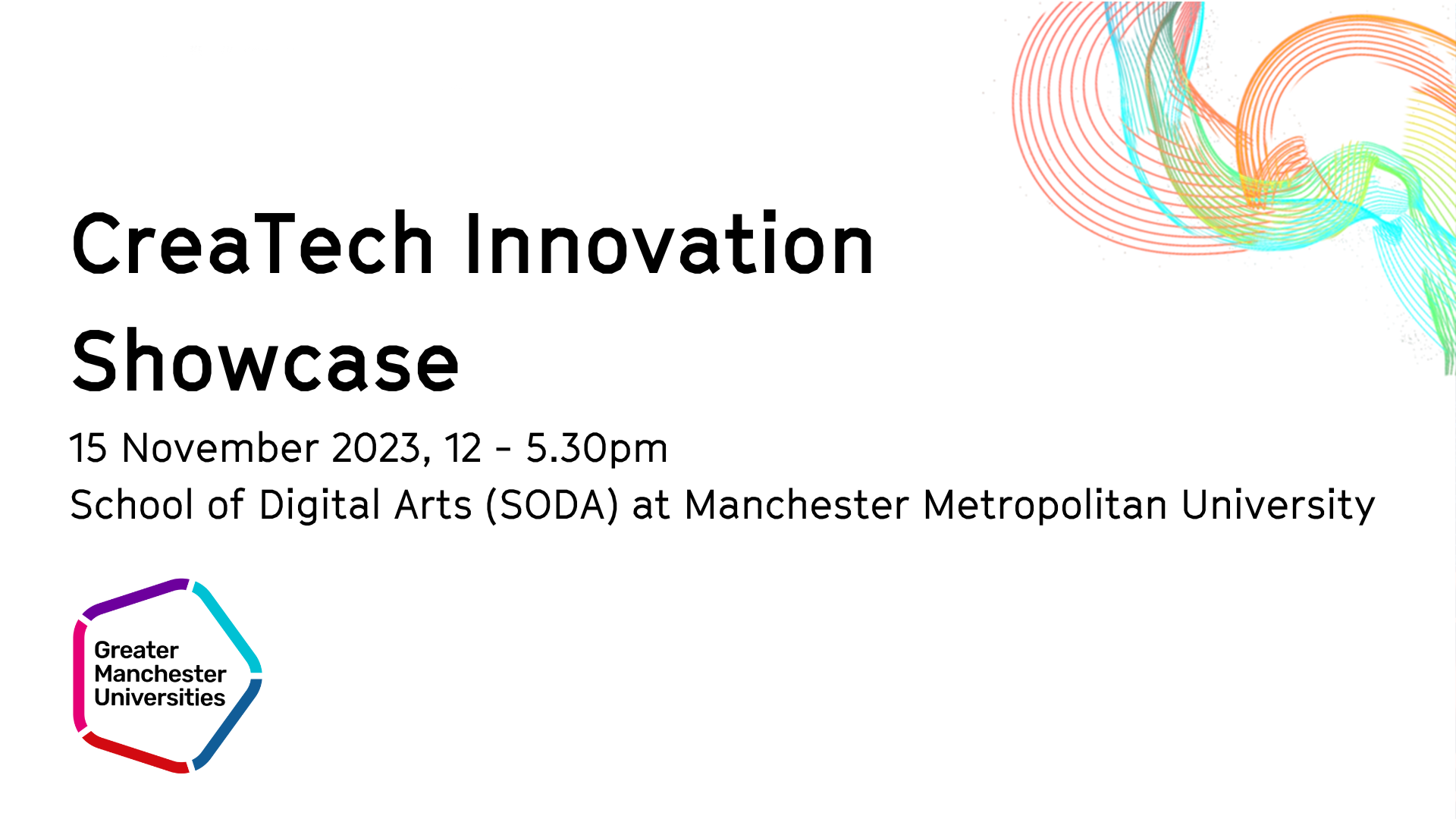 Schedule
12:00 – Arrivals and Lunch
12:50 – Welcome – Why we are here: Prof. Kirsty Fairclough (SODA), Prof John McAuliffe (Creative Manchester)
13:00 – Keynote speaker
13:20 – Keynote speaker
13:50 –Lightning Talks
14:10 – Research at Manchester Met
Horizon funded DAFNE+ project which is focused on the development of an NFT platform with associated tools that aims to provide a responsible and transparent platform for the production and distribution of digital assets in the forms of NFTs.
The official launch of Call for Papers and Artworks of the second iteration of the Storytellers and Machines conference, which will be held in SODA in July 2024. The conference focuses on creative and innovative uses of AI in storytelling, and includes presentations and demonstrations from theorists, artists and creative technologists.
When news stays news: how can poetry help combat health misinformation (?) inter-disciplinary project group and bid building on previously published work on the issues of misinformation and trust. This project will investigate how those who vape encounter and exchange information about vaping through their discourse. Work with participants to create poetry-based factual health information about vaping that is meaningful to them.
14:50 – Break/Tour
15:30 – Industry Engagement
Denise is an entrepreneur, business founder, and a pioneering figure in the realm of music technology. She is the creative mind behind the UK's first Digital Human DJ, known as Dex. Through Dex, Denise has demonstrated an unwavering commitment to pushing the boundaries of what can be achieved in the realm of music. Dex's portfolio includes performances at prestigious events such as SXSW, the Royal Television Awards, Windsor Racecourse and Digital Fashion Week in New York, London, and Paris.
Technology integration for Experiential Marketing (XM) in Fashion and creative disciplines – the ShareLoom collective research project
16:30 – Drinks and networking
17:30 – Event close
We are delighted to present an array of thought-provoking topics, including speculative tech research; combating health misinformation; and the innovative use of AI in creative fields. The event will also provide opportunities for networking, collaboration, and gaining insights into how businesses can engage with universities for mutual growth.
To confirm your attendance, please RSVP by registering on our Eventbrite page. Spaces are limited, so please register ASAP to avoid disappointment.
If you have any questions or need further information, please feel free to contact SODAforBusiness@mmu.ac.uk.