23 - 26 May 2023 (Private View: Tuesday 23 May at 6pm)
Location: Modal, School of Digital Arts, Manchester Metropolitan University
Event Type: In-person
Freedom, desire, community – MDC Research Group Exhibition
We are delighted to unveil the first installation of the School of Digital Arts (SODA) Media and Digital Culture Research Group in our on-site gallery, Modal. The exhibition comprises the work of several artist/scholar practitioners who are on the staff at SODA.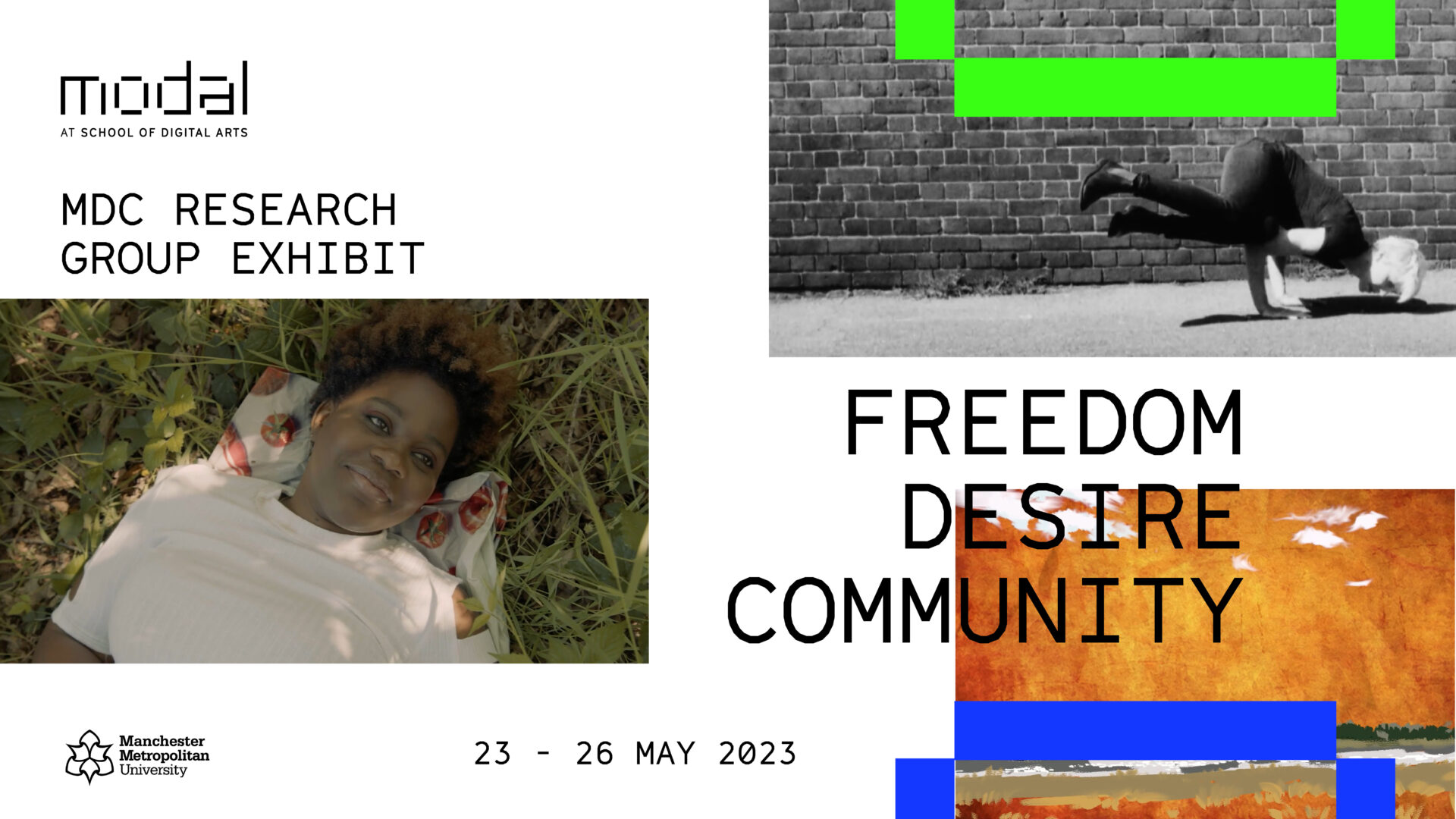 The works on display are very different from each other, but each piece reflects our deep creative reflection on the nature of autonomy and freedom. The exhibition explores different physical communities as well as the nature of desire, questioning the relationship between our bodies, objects, and the expectations of contemporary society.
We explore what matters to us and others, our dependence on our memories and their relationship to time and space. We have also explored the different aesthetic approaches to the notion of finding one's own place in the world.
Some of the works displayed could be defined as political or activist art, while others are documentaries or impressionist and philosophical meditations.
We hope that visitors will enjoy the work and that through the experience new links and dialogues can be created.
This exhibition has been curated by Agnieszka Piotrowska PhD, Reader in Film at SODA.
Private View
We invite you to join us for a launch event for the exhibition on Tuesday 23 May at 6pm in Modal. Following the Private View, the exhibition will be open until the 26 May. Please check the Modal page for gallery opening times.
Exhibitors
Unrehearsed Dance Moves #1 (2022)
Unrehearsed Dance Moves #1 is a 16mm film from a series of performances for camera which document the artists repeated attempts to hold a breakdance pose. This specific move needs strength and balance, whereby the arms become a pivot for the body's tipping-point.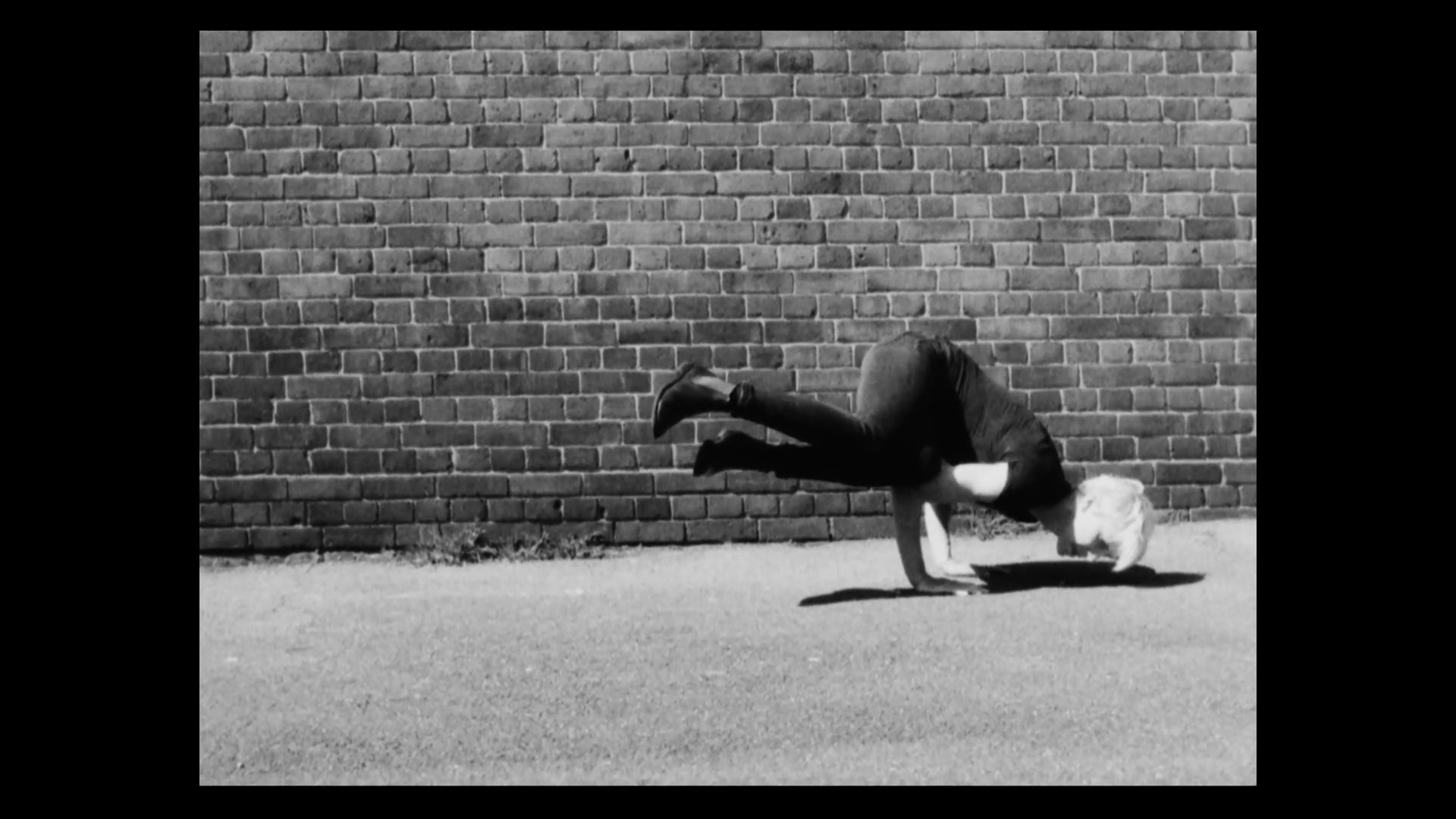 The camera is not only a means to document the performance, but acts as a timer, working in symbiosis with the physical body and becoming a performative partner.
BATTLEDRESS
In collaboration with Rachel Genn
BATTLEDRESS investigates how methodologies of oral history, archive and immersive technologies can create alternative 'encountered' histories and provoke new insights into working-class women's experiences of fighting, fashion and allegiance.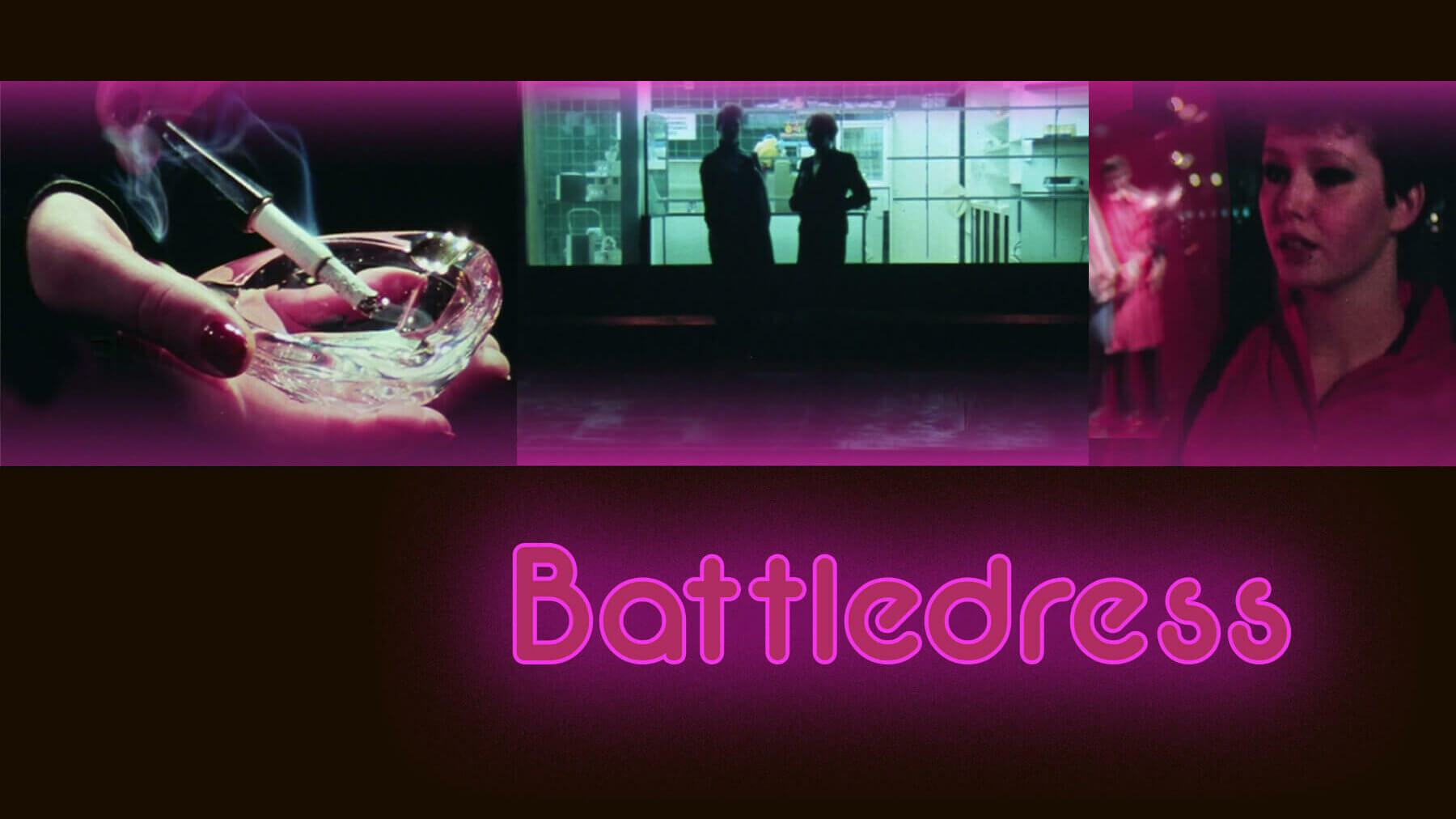 This research builds on Genn's personal story 'Streetfighting Girls' for The New Statesman (2021) about the social and economic pressures on girls approaching womanhood in 1980s Sheffield. Exploring challenging themes of women's violence, its relationship to power (and perceived invincibility) and especially how fashion fits with these themes. The project seeks to illuminate how immersive techniques can reimagine working class women's stories, creating 'encountered' narratives that disturb the way existing working-class histories are framed.
BATTLEDRESS examines how story and form can enmesh to bring out intimate disclosures about sometimes challenging subjects and explores how clothes, as signifiers of intention and allegiance, play a major role in tribal ritual, identification, and behaviour, and asks how, when and why we interact with such narratives.
This is the first collaborative work between SODA and Manchester Writing School, with Rachel Genn as the core collaborator.
The Chair – Two Channel Digital Video Installation – 7:55 minutes
The town of Long Eaton in Derbyshire has long been associated regionally with upholstery, though as in many post-industrial towns in the Midlands and North of England, the trade has been in decline for decades. To produce The Chair, I returned to my hometown to learn more about the craft skills which have been in my family for several generations, and to explore the contemporary landscape of a place still caught in transition between the last century and the present day.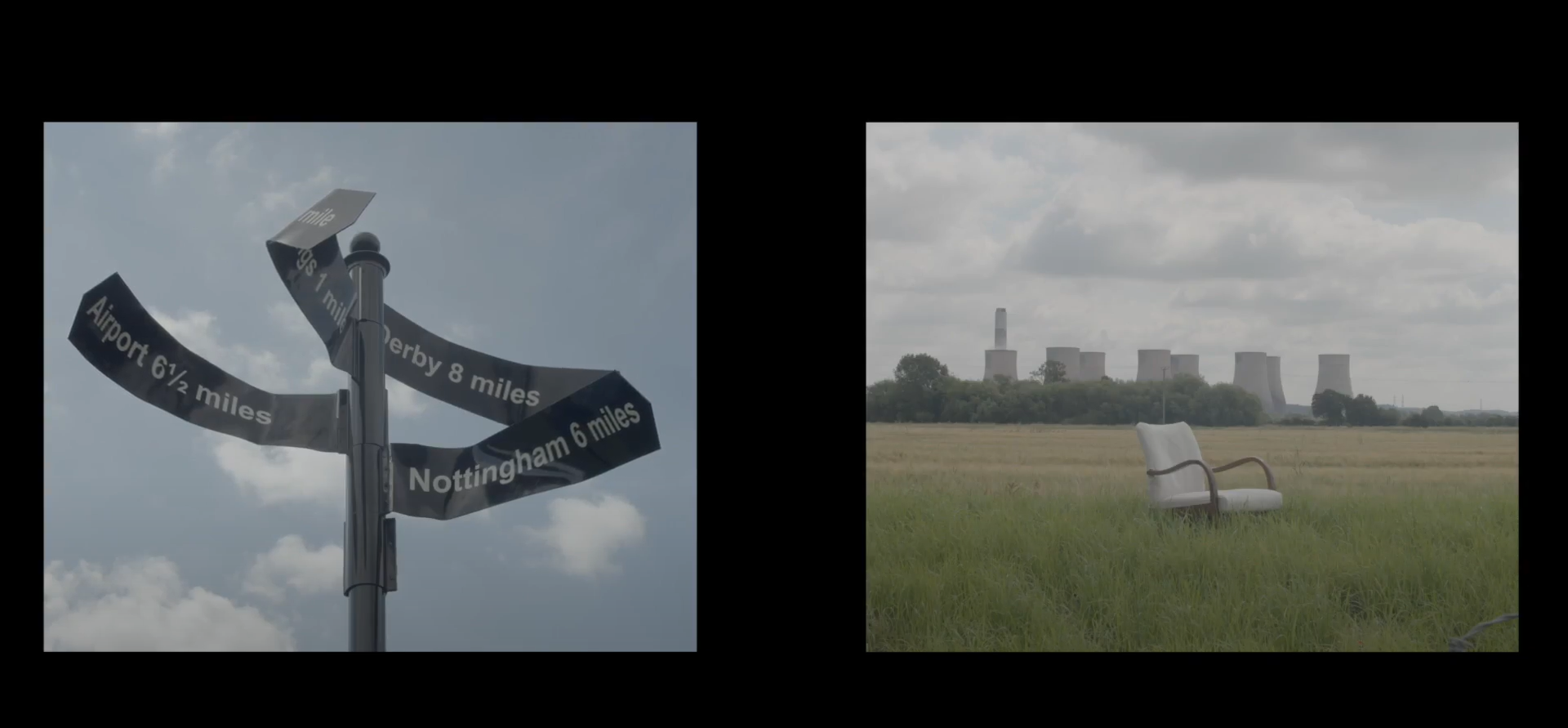 The film, produced as part of a methodological development process for a larger PhD project, is the first in a series of practice-based experiments I made in collaboration with my Nan (Grandmother), who was an upholsterer by trade for over most of her working life.
The films explore her memories of the industry and working practices, the changing local environment, and the artisanal practice of upholstery. This work contrasts the process of re-upholstering an old armchair (made by my great Grandfather) with the contemporary topography of an area where traditional working-class labour has declined in the post-industrial climate.
steinrunnin (petrified)
In collaboration with Anton Kaldal Agústsson
Steinrunnin (petrified) is a lyrical exploration of collective and cultural eruptions in commemoration of the fiftieth anniversary of the Westmann Islands' (Southern Iceland) volcanic outburst. The volcano erupted unexpectedly in the early morning of January 23rd 1973, leading to the immediate and safe evacuation of the local population of 5000 people.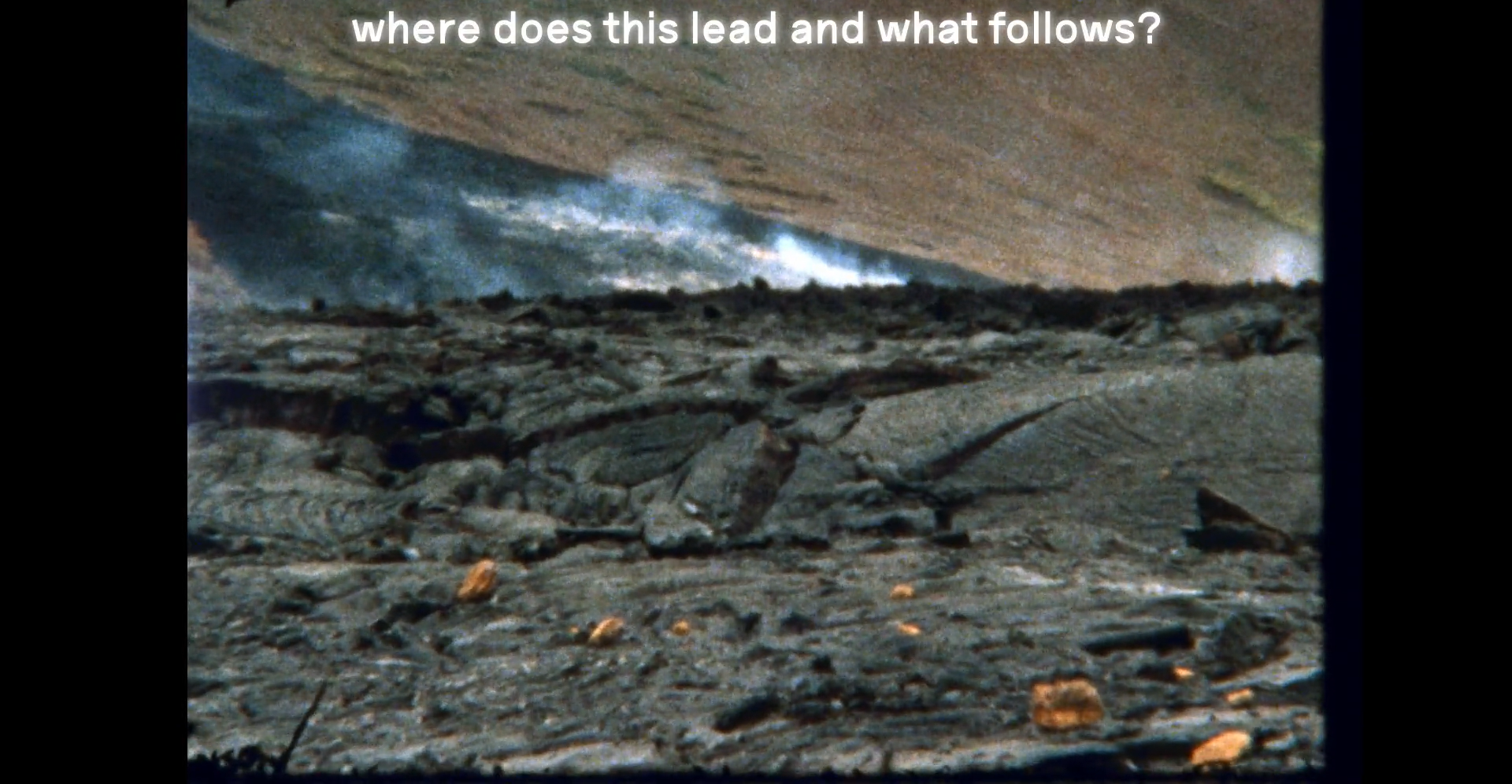 Using analogue film observations of the island and other contemporary sites of eruption within Iceland as a focal point, steinrunnin maps the personal to broader connotations of cultural and ecological histories.
Filmed in the summer of 2021, in the immediate aftermath of the first waves of the covid-19 pandemic, the work contrasts geographical deep time with the communal aftershocks, impacts and recovery from singular and unexpected events.
MAKE A VESSEL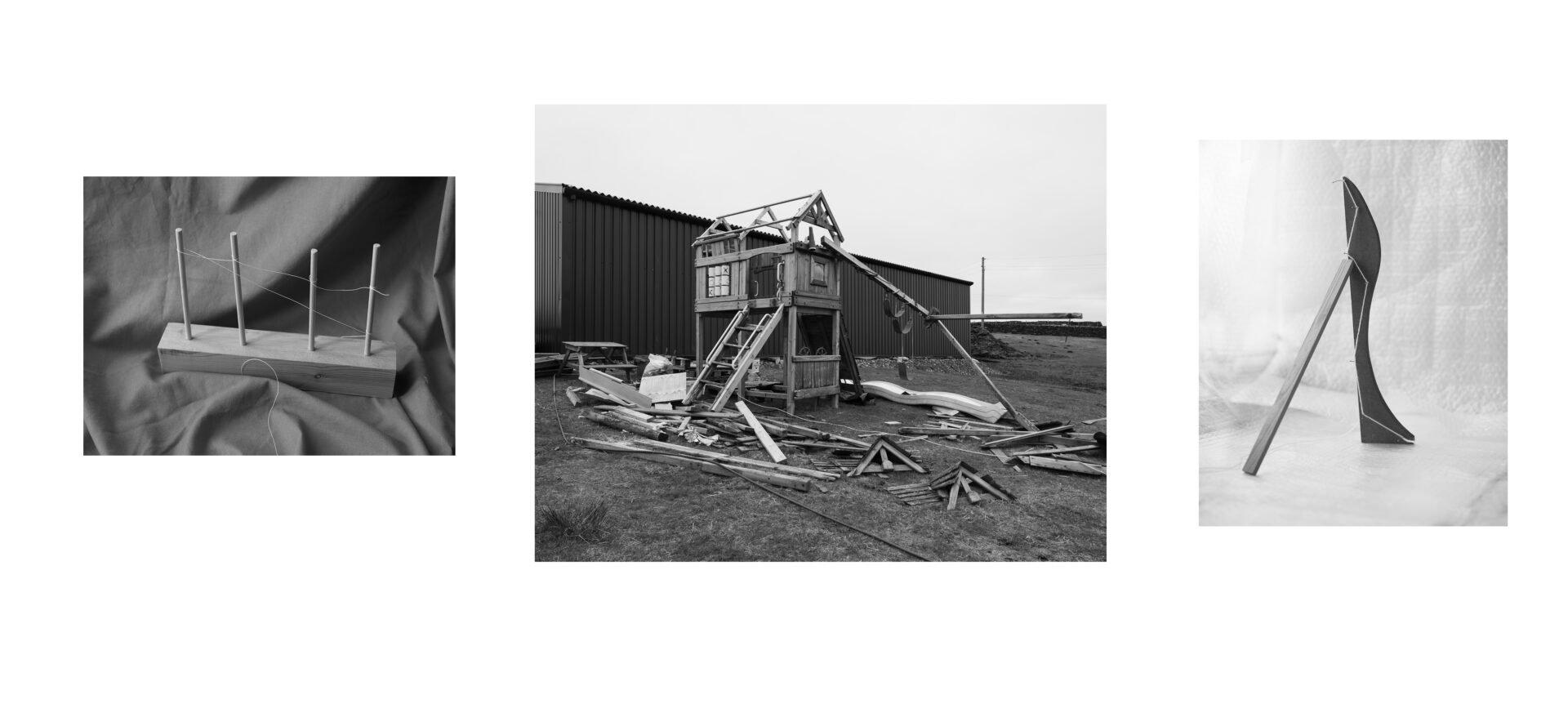 MAKE A VESSEL is an ongoing exploration reflecting on acts of human construction through play, damage, and the creation of an experienced space. By taking inspiration from everyday explorations and physical findings, the photographic result isolates and transforms them into imaginary objects.
The photographic objects are in need of a vessel, which can contain them and bridge a gap between reality and imagination. The work aims to consider notions of construction, female labour and regeneration of the material in a consumeristic and material setting through temporary installations, physical interventions, and photographs.
She describes the view to her father over the phone
Through this work, Lee reflects on her father's dementia and a shift in familial roles and relationships.
Recontextualising archival fragments and personal references, Lee considers the location and relocation of memory. Exploring dialogue, care, and the act of remembering a desired landscape.
Pentelic Scarves
Pentelic Scarves is a sculptural installation incorporating a 3-screen digital animation. The work offers multiple perspectives around a simulation that has been modelled on a display stand of silk scarves. This is based upon a photograph originally made in the Plaka district of Athens; a popular tourist district, where an abundance of souvenir shops now populate the narrow, labyrinthine streets.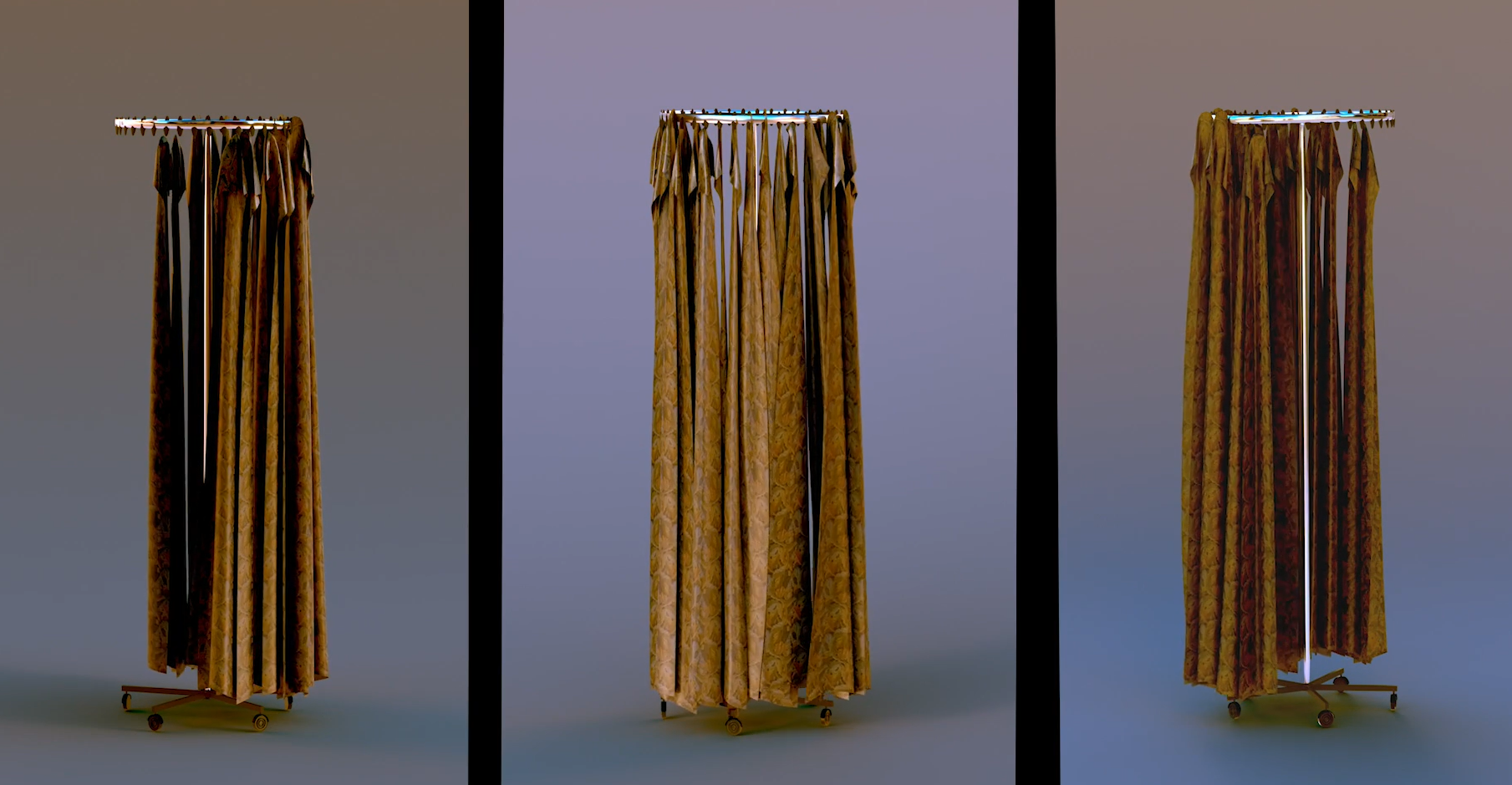 The piece is taken from a larger body of work titled A Fallen Line of Marble Drums from which ideas have been inspired by a collapsed column at the Temple of Zeus in central Athens, that was blown over in a storm in 1852. The animation makes reference to the proportional form of the order of Corinthian column and its decorative acanthus leaf motif; embedded as a William Morris print within the surface texture of the agitated virtual scarves.
The work was created following a day spent making photographs on the 23rd July 2018, the day that wildfires unknowingly swept through the coast- al areas of the Attica region, killing 102 people. The fires spread rapidly from a source on Mount Pentili, located to the east of central Athens. Strong and erratic winds that could be felt through the city, made it impossible to follow and respond to the spread of the fire thus contributing to the tragedy.
Wash (2022)
My hybrid film Wash is a collaborative work shot in Zimbabwe. It was funded by Strategic England 2021 and the University of Edinburgh. It was inspired by the work of the immunology Professor Francisca Mutapi and her team both at the University of Edinburgh and the University of Zimbabwe.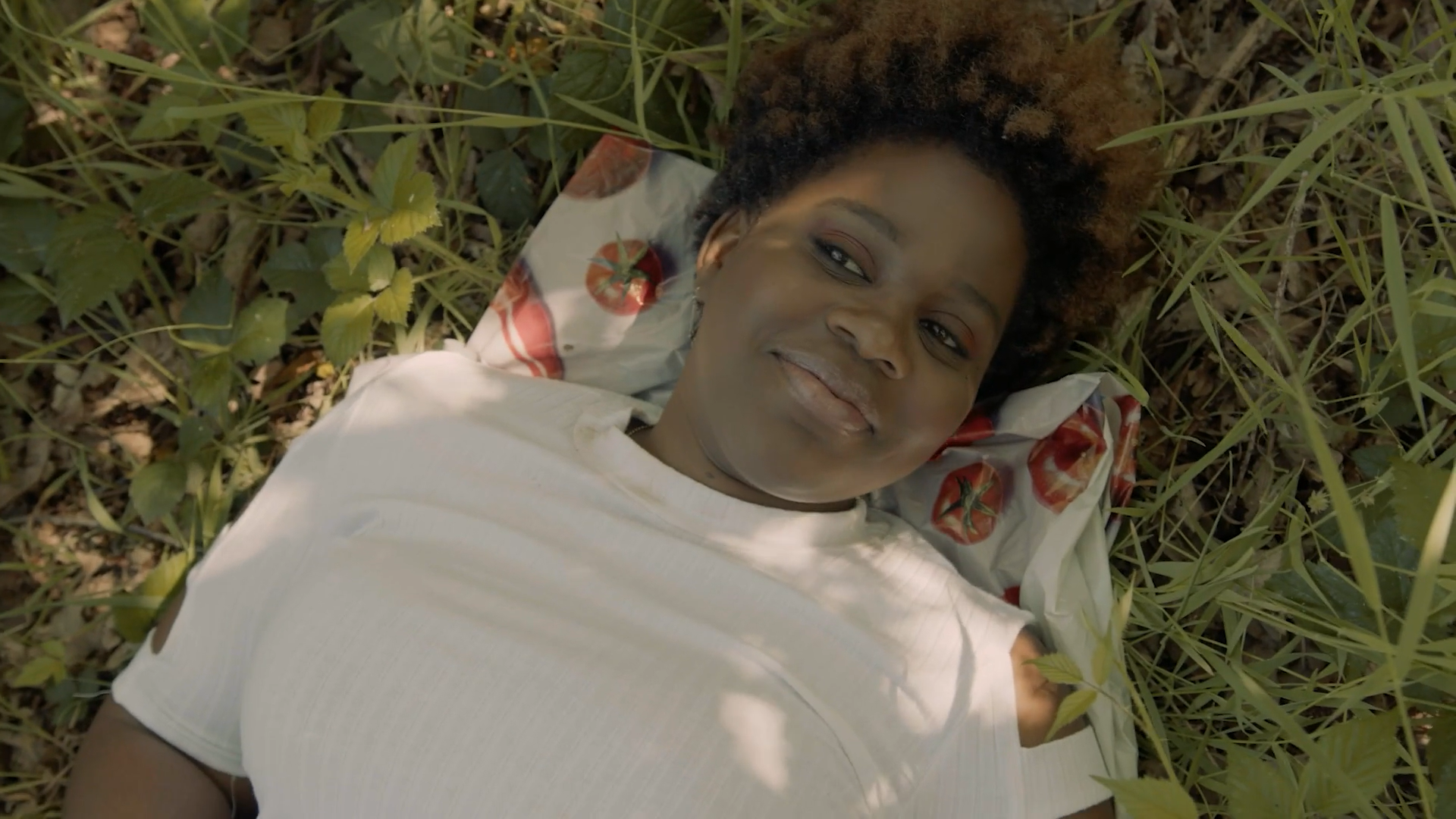 The work deals with issues of understanding a given community before introducing practices that might even be good for them. It appeared that women in rural Zimbabwe did not wish to have toilets built as the walk to the bush was their only space for intimate conversations without men.
In the film I have used a patchwork of knowledge, a patchwork of influences, drawing from Surrealism as well as postcolonial theories and intangible local knowledge reservoirs. The film uses animated sequences created by fellow artists as well as some fine artwork produced by Francisca herself.
The work is both creative practice research and a piece of activist art. The work has already been screened at the British Parliament, has been shown widely in Zimbabwean schools and is currently in the finalists of the festival of the World Health Organisation. It has been screened at BAFTSS conference in 2023 and has been published in the International Journal of Creative Media Practice.
Virtual-Actual – XI-1, XI-2
My research takes the photogram, the most fundamental of photographic image processes, and places it into the 3D digital realm. Traditional photograms are created by placing objects onto light sensitive paper and exposing them to light. Once fixed through chemical processing, a monochromatic photograph is produced that depicts shadow traces of the objects that were placed there.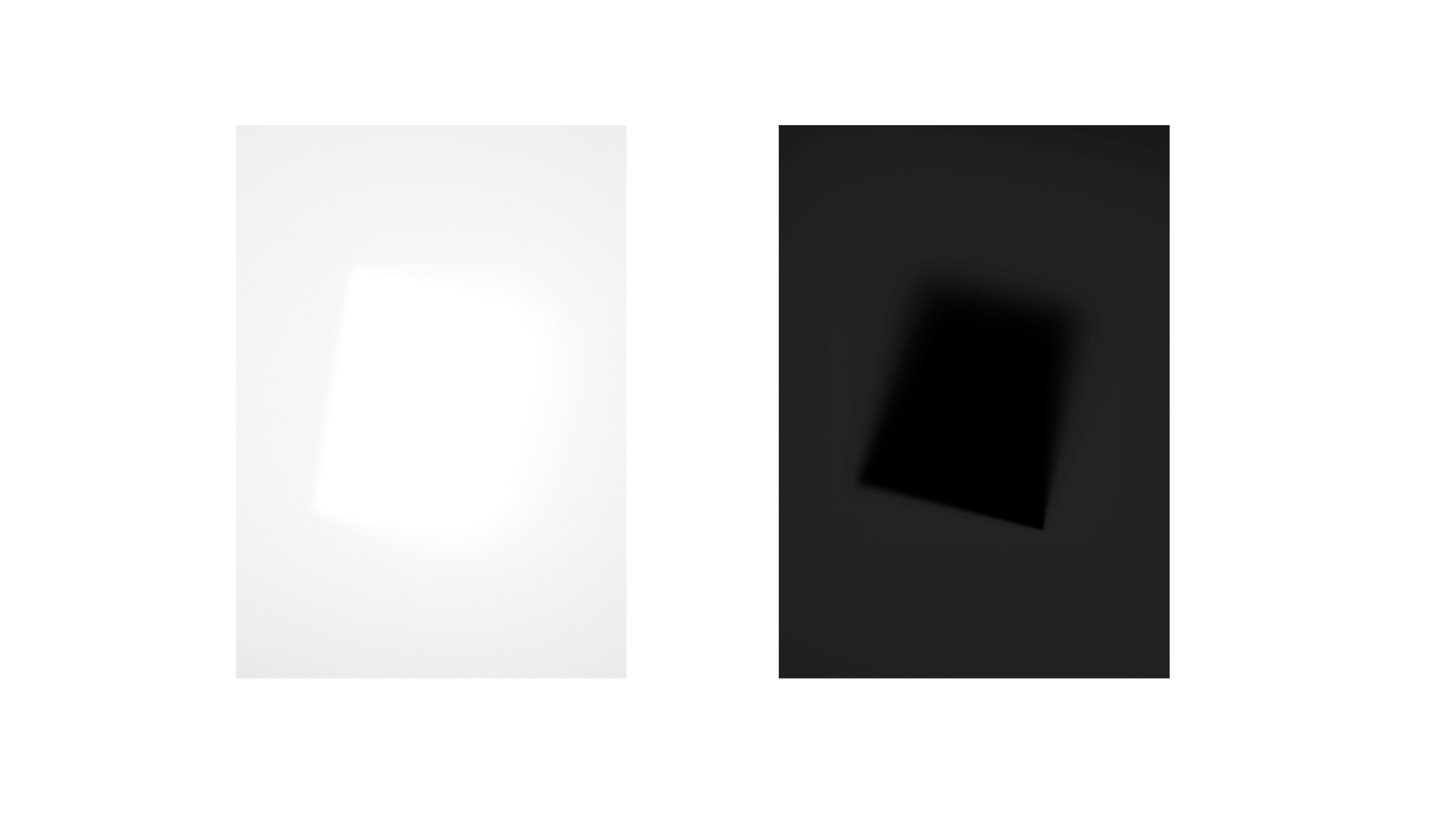 My research explores the photogram within 3D computer software, a digital environment where virtual surfaces, objects and light sources can be created and moved in real time within the 3D digital space. This algorithmically determined environment provides the ability to explore the virtual photogram as a unique translation of light, surface, and three-dimensional objects.
This process has resulted in a series of non-representational images where illuminated digital objects have been removed prior to digital rendering, leaving only their shadow remaining on the surface. The result is a series of light emitting photographic screen images.
My research is deeply inspired by the photographic practice and associated writings of Gottfried Jäger, and the painting and writings of Ad Reinhardt and Joseph Albers, all of whom have examined the visual processes of light, hue and intensity in their work which has become of central importance to the photographic images that constitutes Virtual-Actual.
Republic
In Sheffield, Northern England, three women across the city select a daily act of care to be filmed that represents their experience of motherhood. The women's interactions with their young children offer a glimpse into the many repetitive and ordinary actions that comprise the labour of modern motherhood. Washing is perpetually put on and hung up while the baby vies for attention.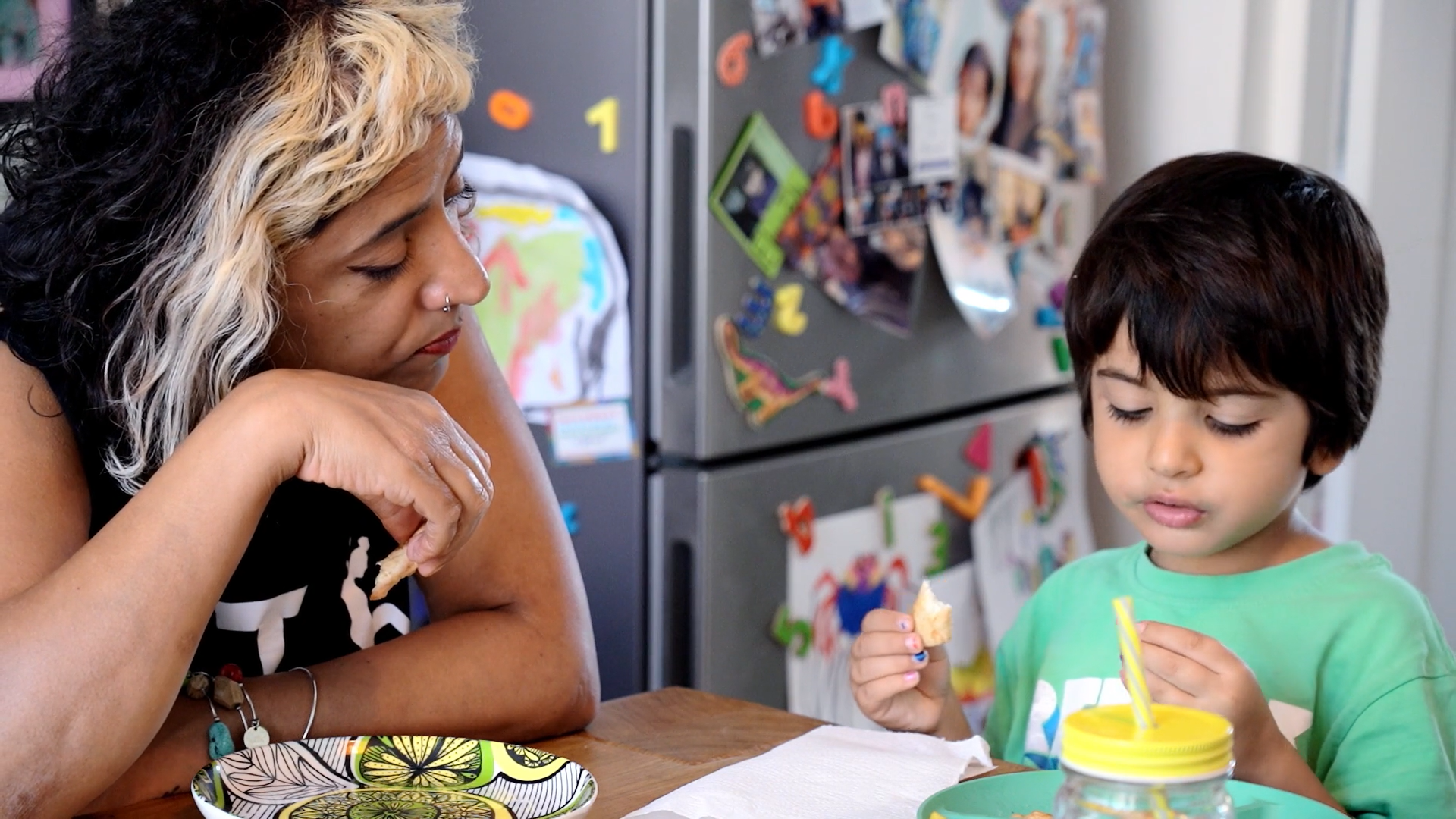 We encounter the many steps that make up the trajectory towards the midday nap. A child's dinner is made, and its eating discussed over a familiar conversation about 'what's for pudding'.
Republic layers these moments to build an acutely observed, sensory world with an at times off kilt experimental tone hinting at the thoughts and feelings of the mothers as they care for their children. The film takes account of and illuminates the nuanced negotiations comprising women's everyday care, so often overlooked both by our society and in representations of women's lives on screen.
Velvet Brains
Velvet Brains by Maria Ruban was exhibited as part of Everyone In This Room Is Connected To Everyone by Jo Clements at The Whitaker Art Gallery in 2023. The documentary examined hierarchies of knowledge, particularly with regards to class and gender, also memories through making, intertwined with explorations of science fiction narratives.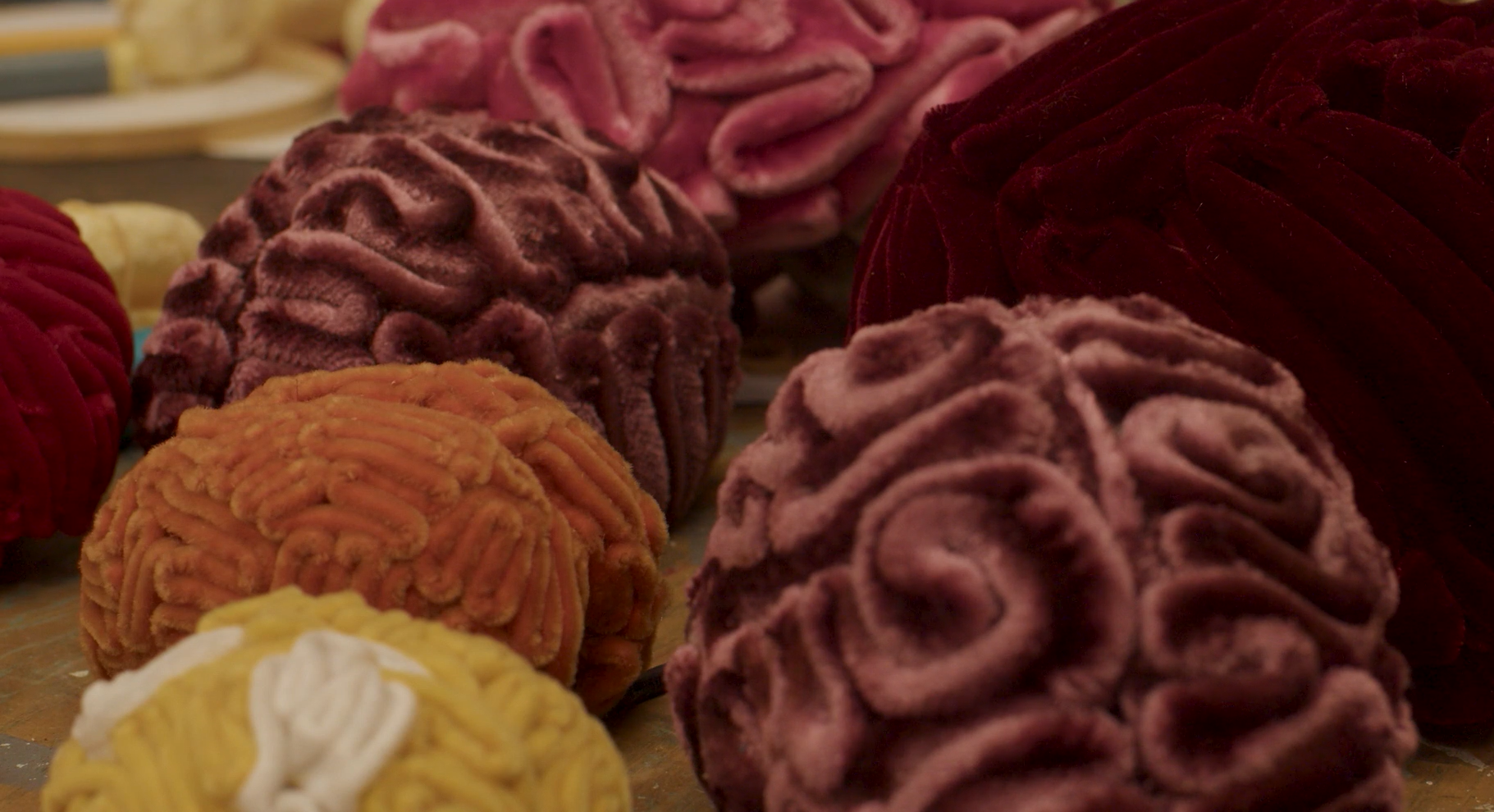 The process of making the documentary intertwined exploration of how the tactility of craft and shared skills can allow for recollection and emotional connection. By thinking about making, the documentary becomes a process of testimony; reinterpreting memories through repetition and human action, becoming an agent of collaboration between the artist and filmmaker. By creating this relationship, doing can be considered as part of an ecology of feminist documentary practice.
Requital (2022)
Through the foregrounding of place, body and personal voice in moving image, performance and new media, the work investigates notions of love, worldmaking and magic in order to shift viewer perceptions about structures of coloniality, marginalised identities and self-determination.
The masculine and phallic physical structure of the lighthouse is combined digitally with the typically female and mythical figure of the siren.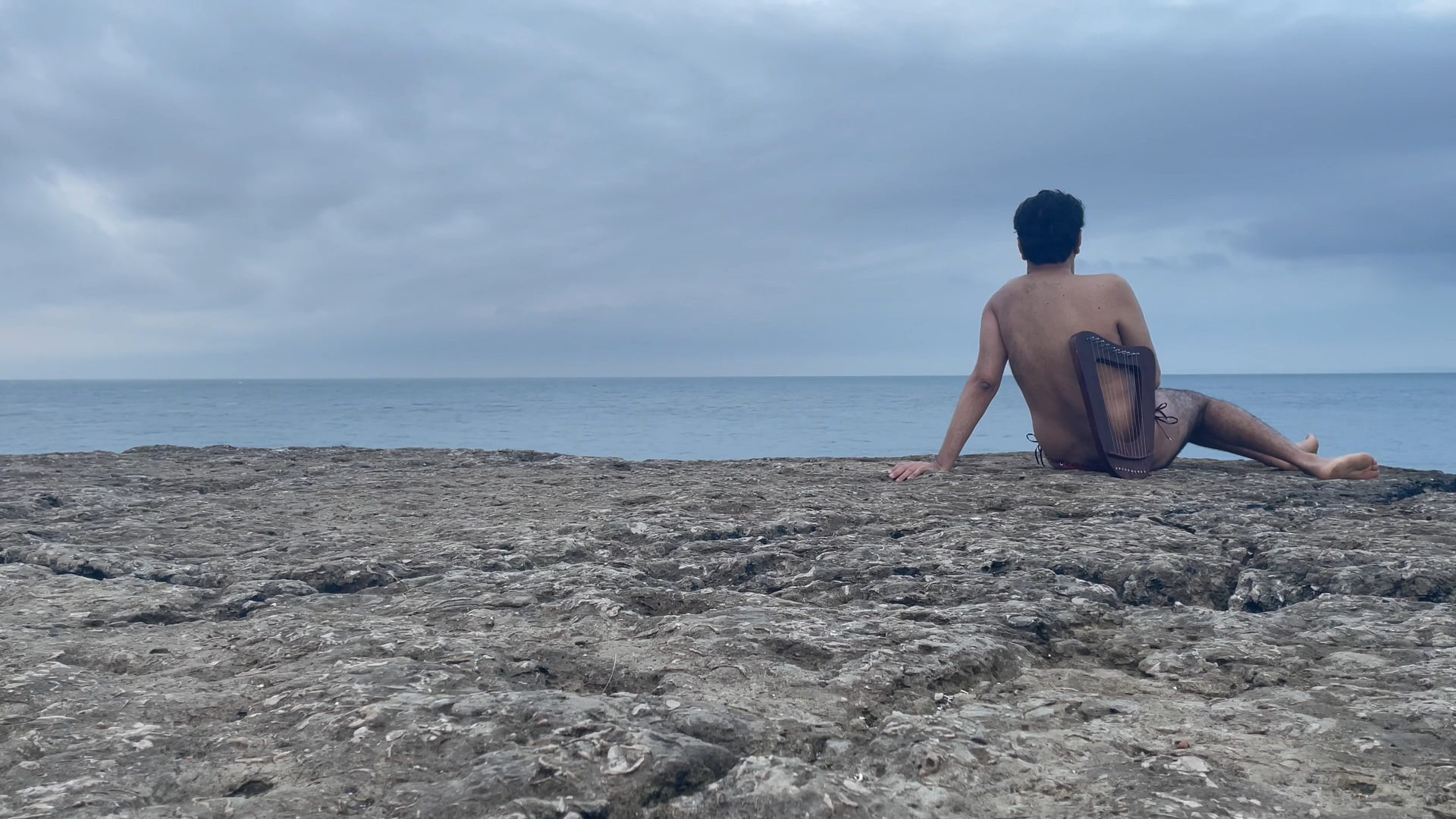 Sirens, in myth, brought sailors to their doom by luring them into shipwrecks at their islands while lighthouses are beacons acting as navigational aid bringing maritime pilots to safety. Both are an invitation, providing direction. It is interesting to note that a 'siren', as a famously female figure, is seen as 'negative' while the phallic lighthouse as 'positive'. Requital. subverts and cuts across these clean lines for a work that is more paradoxical than these polarities.
An ode to unrequited love, Requital. finds a metaphor in Isle of Portland's history as a quarry site, for when love is taken but not given, not reciprocated, much like how Portland stone has been taken by man for ages to build elsewhere.
Funded via the British Council International Collaboration Grant, co-commissioned by b-side festival, in collaboration with UAL and Creatives Garage.